It's been a whirlwind of a year and the Rise Art team has a lot to show for it. Our curators have been all over the city dashing to and from art fairs and graduate shows, scouting a torrent of brand new top emerging and established talent for the gallery; we've hosted a flurry of group and solo exhibitions showcasing our artists internationally from London to Hong Kong; our operations team have connected artists with art lovers and collectors alike week on week; and the content team has kept you clued-up with behind the scenes artist action, top interiors trends and more. We think it's more than appropriate to round up the successes of this year with a fabulous list of the team's top picks from 2016, and their ones to watch for 2017.
Scott Phillips - Co-Founder
Top Pick from 2016
Mat Cahill, Possibilities are Endless
Watching Mat's practice evolve over the years has been really rewarding. Mat's a perfectionist, and works like this show that his dedication is really paying off.
One to Watch for 2017
Our curators picked out Artist Kotaro Machiyama from masses of Japanese artists and it's easy to understand why his work caught their eye. His work takes some elements from Murakami's super-flat movement and references street artists including Kaws. His meticulous works pull you into a cartoon world. I expect big things from his practice in 2017.
Rebecca Gordon - Head Curator
Top Pick(s) from 2016
Sir Peter Blake, Tattooed People
It was love at first sight when I recently saw this collection of small, colourful watercolours laid out in our office recently - end goal is to own the whole set of these heavily inked men and women! They are beautiful, intricate and quirky all at the same time and would look fantastic on a wall together.
I am always drawn to Gina's photographs - her ability to find beauty in decay is remarkable. Her composition and use of perspective are fantastic in this work. I also love the colour and keep imagining how good it would look on the dark blue walls of my sitting room!
One to Watch for 2017
Charlotte is an exciting artist and definitely one to watch. Her works are imbued with a wonderful sense of colour and I particularly like the way they are both figurative and abstract in nature.
Natalia Rubinstein - Artist Champion
Top Pick from 2016
I adore everything about this work: the colours, the intricate composition, the intimate feeling of the painting and the social message behind Mikela's work.
One to Watch for 2017
When I saw the original neon works that this print is based on, I probably spent 40 minutes reading it. Rebecca's practice, which is all about being brutally honest - first and foremost with herself - gets flipped on its head in this work: by using other people's testimony she invites the audience to directly participate in the work.
Katie Tsouros - Brand & Marketing Manager
Top Pick from 2016
Iidu Tikkanen, The Book I Read
I love the vibrancy and energy of Iidu's work and I think she has an amazingly unique approach to painting that you don't see very often these days. I like the reference to the patterns, colour and style of the 80s & 90s and the even bigger influence of the kind of mark-making born in the era of Abstract Expressionism. The Book I Read is one I'd have happily have on my wall!
One to Watch for 2017
Olivia Peake makes beautiful, pared back geometric and architecturally based paintings, drawings and installations. I love the subdued, pastel colour palette with hints of neon and the movement and shapes she manages to create. Again a very unique approach, and definitely one to watch for me.
Teddy Hall - Editorial & Content
Top Pick from 2016
Cecilia Danell, The World Exists
Cecilia's exquisite paintings capture vacant landscapes that provoke me to look inside and ponder my place in this world. This particular piece reminds me of living in Cornwall taking long stormy walks on the beach.
The One to Watch for 2017
Michelle Loa Kum Cheung, Uncascade
It's explicitly clear how much energy and passion Michelle puts into every piece. She masterfully combines pyrography and delicate oil paint, creating fragmented, surreal landscapes that are like port holes onto her lost heritage. She's busy creating commissions across London and I can't wait to see her practice continue to evolve!
Dana Mayer - Analytics Manager
Top Pick from 2016
Kristjana Williams, Vestur Uglu London 2016
I'm growing to love maps as a subject in art and these prints are just great. I like the wit with which Kristjana manages to transform areas of London I find so familiar to these bonkers, beautiful scenes. Special mention goes out to the elephant having a bath by Oxford Street and the monkey hanging out on top of the Truman Brewery. The original collages are on another level.
The One to Watch for 2017
Violet Astor, Northern White Rhino
I couldn't believe this was a charcoal drawing when I first saw it. I haven't seen much of Violet Astor's work but I can't wait to see more and will be avidly waiting to see what work comes next in 2017!
Marcos Steverlynck - Co-Founder
Top Pick from 2016
Hush has been with Rise Art for a long time and it's been great to see his work transform. He combines Western street art styles with a Japanese aesthetic so you can instantly tell it's a Hush piece.
One to Watch for 2017
Maybe an obvious choice for a tech lover...! Samsofy's comic works are clever, intricate and humorous - I could spend ages looking through his photographs.
Diego Anniballo - Developer
Top Pick from 2016
This artwork, in a certain way, reminds me of how we are different from others but at the same time how we are similar. I really love the minimalist style of Mat Cahill.
The One to Watch for 2017
Genevieve Leavold, Call of the Wild
I like the natural shapes and the organic entities that she is able to create through a stunning mix of refined colours.
Deividas Barkauskas - Developer
Top Pick from 2016
Great piece from a well known artist, I like that each of 61 circles has its own colour but some of them look the same.
The One to Watch for 2017
Anita Rozentale, Children of the Storm
I like how the sky and sea are shown here with few different layers. I think this one is the best artworks by Anita Rozentale that we have on RiseArt, and I'm interested to see what she will create in 2017.
Caitlin Worthington - Curatorial Intern
Top Pick from 2016
Sarah Thomas, Maharaja of Jodphur
What I really like about Thomas's work is her attention to detail and the juxtaposition between the print, the photograph and the collage. I also love the playfulness and colour of her works.
One to watch for 2017
With this one, I love the blending of what seems to be the sky and outer space (and also that it's a bit sparkly!). I like how it's so versatile and that it could fit into almost any space.
Nancy Cravero - Graphic Designer
Top Pick from 2016
Niki Hare, Not Sure What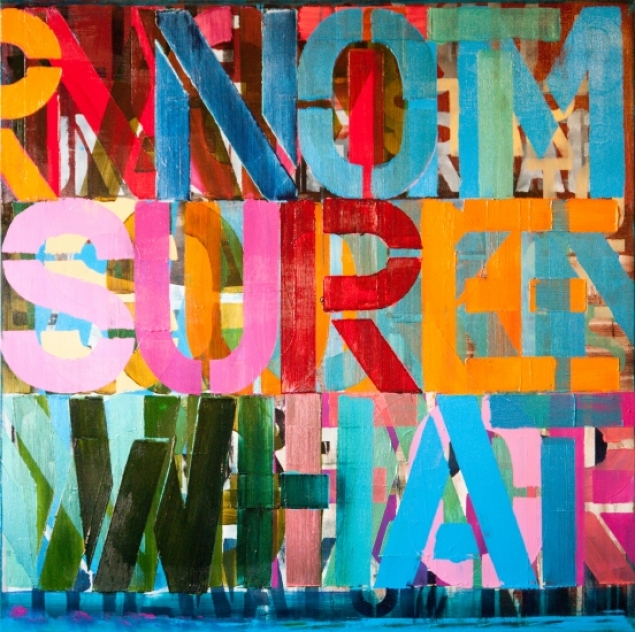 I just love the bold colours that she uses and her distinctive style.
One to Watch for 2017
Violet Astor, African Elephant
This piece really captured my attention and I thought it was lovely, but I became even more intrigued when I learnt that it's a charcoal drawing and not a photograph!
Pedro Neto - Head of Operations
Top Pick from 2016
Louise McNaught, Underwater Love
Well, having bought two artworks from Louise it's hard to skip her! Simple, gorgeous, romantic, complementing and affordable (and my favourite animal!).
The One to Watch for 2017
Marleen Pauwels, Cuando ya Nada Importe
Her works remind us of our fragility, and the urge to live to the full while we can.
David Smith - Operations
Top Pick from 2016
Heloise Delegue, The Veteran and the Queen
I love Heloise's new Guston inspired palette on this work and the interplay of flatness and 3 dimensionality along with the ambiguity of abstraction/figuration.
The One to watch for 2017
Sophie's works use nature as subject matter but manage to transcend what we expect to see when someone thinks of paintings of animals and flora. Using high contrast and quick mark making her works really bring to life her subject in a really contemporary style.