Marion McConaghie
Marion McConaghie is an Irish artist known for her loose, sketchy style of painting. Marion's inspiration comes from natural history, fascination with ageing processes and themes of freedom and movement. Her interpretations of people and animals are haunting, made expressive with layers of texture and different media. We love the energetic, sketchy quality of this artist's work. Whether it's…Show more Marion's charcoal and pencil sketches or her textured, full-colour paintings, all have a liberated feeling about them.

The artist moved across to England to study art at Brighton University. After her studies Marion worked as a graphic designer. When she stopped full time work to have her son, she began creating designs and prints for sale and resumed her love for painting.

Marion has exhibited her paintings at art festivals in the UK and her work is featured in the collections of various online galleries and sells internationally.Show less
"Marion McConaghie uses delicate lines and sketches to create images of surprising strength and power, challenging our perceptions of media and subject matter."
Katherine Mellor - Rise Art Curator
Artworks by Marion McConaghie

Stay in Touch with Marion!
"Follow Marion to receive first access to new works for sale and the latest updates on events and activities."
Marion McConaghie is featured in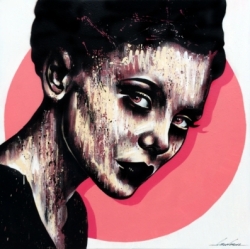 Inside Scoop
The Art-Isms