The Interior designer isn't exactly a rare breed these days. With a plethora of professionals to choose from it can be a pretty tricky task finding a designer whose style is up your street, and whose reputation you can trust. We've decided to showcase 5 of the hottest interior designers right now, all with a different approach to styling interiors. See some examples of their various international projects and discover how each of them use artwork to compliment design… We think it's absolutely essential!

Louise Bradley
London based interior designer Louise Bradley effortlessly dabbles between the design of spaces, furnishings and home accessories. She owns two shimmering showrooms in the most elitist of London districts: Chelsea and Knightsbridge, and splits her own time between a beautifully styled apartment in Knightsbridge and a Hertfordshire country cottage… (Everyone has the right to a weekend hideaway right?)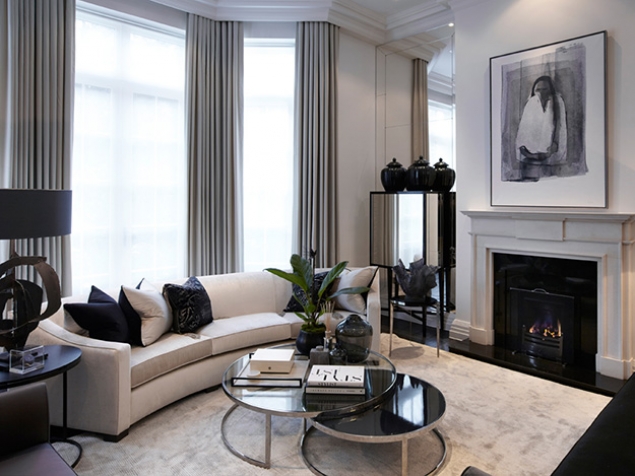 Louise believes that the home should be a sanctuary, often opting for a neutral palette that will balance the impact of statement furnishings. Her ethos is to be timeless and keep it personal, something that can be easily achieved by giving pride of place to a piece of artwork you really love!
Get the Look:
Turner Pocock
Dynamic duo Bunny Turner and Emma Pocock specialise in the design of London town houses and have a practice characterised by a bold use of colour and pattern (yes wallpaper is back in fashion!). A world away from the sophisticated neutrals of Louise Bradley, they believe that when houses look identical from the outside the inside should be nothing but unique! Having nabbed a spot on House & Garden's list of 100 Leading Interior Designers as well as the Sunday Times Top 30, you know your property is in good hands with their team!
Top tips include using light to your advantage, embracing the forgotten territory of the hallway by accentuating with colour, and being brave and bold with eclectic furnishings. Artwork is an integral part of their designs and we totally agree that the right piece can really sing within a colourful environment, whether it matches the colour palette of the room, or is a statement piece that totally clashes – dream big!
Get The Look:
Tara BernErd
When House & Garden interviewed Turner and Pocock they recommended Tara Bernerd as the designer they would choose, loving her 'masculine', 'no fuss' schemes. Renowned for creating cutting-edge interiors with a style that's referred to as 'industrial glamour', her commercial and residential projects are characterised by a use of elegant, bold styling offset by bursts of colour. Tara came to Rise Art in search of beautiful contemporary pieces for a private client's Hong Kong design project, and we were happy to send an array of beautiful artworks from the likes of Gina Soden, Kristin Gaudio-Endsley, Jane Pryor and Steven Irwin their way… Home swap anyone?
Get The Look:
ND Studios
The very discreet and elite ND Studios is run by the experienced Natascha Dartnall who has spent over a decade designing luxury interiors internationally. With a masters in Interior Design and History of Art she specialises in ensuring that property heritage is protected, curating classically beautiful design schemes that utilise artwork as a tool for upscaling a space.
Get the Look:
Spinnochia Freund
Spinocchia Freund has designed all manner of properties, from beach villas in the Balearic Islands to luxury city high-rises (where do we apply for a job?!). Championing the use of bespoke, purpose built furnishings, Spinnochia Freund are all about utilising space and combining efficiency with sophistication. They are big fans of Rise Art's Nick Malone, an abstract expressionist painter, and they recently purchased his entire Encounter series for a private client in a home so elegant it's being featured in a Channel 4 documentary on Britain's Finest Interiors this autumn. We can't wait to see it!
Get the Look:
Encounter XI & Encounter XVI by Nick Malone
The Interiors Edit
Check out this new collection of art hand-picked by the experts, featuring a range of minimal and abstract pieces that are perfect for achieving the designer look in your home.