Maxine Brady is living the designer dream in Brighton. She splits her time between styling homes, sharing top tips on her blog and redesigning her own interior. What makes Maxine tick? "Living by the sea. Rummaging in skips. Dancing."
We just had to learn more.
Tell us about how We Love Home came about.
I'm an interior stylist, and for years my friends and the people I work with suggested that I start a blog. I never had the time (or thought anyone would like to hear my ideas), but when I bought my first house in Brighton I began to chart all of my makeover ideas, and the blog grew out of this. That was 2 years ago, and now I write about all sorts of things, from travel to events across Brighton, lifestyle and homes and interiors.
Why is art important to you?
I have an emotional connection to all of the artworks in my own home, since they represent memories - from holidays spent, to people close to me, and significant times in my life.
I have a kooky, eclectic mixture of art on my walls, from a sketch of my dog to photos of me at burning man and vintage oil paintings.
Your lovely Maltese seems to feature quite prominently on the blog. Is he one of your inspirations at home?
You could say that - I had to buy a house with a garden for him, so he cost me another £20K! I love my dog and I have had to make my house pet-friendly, which meant including everything from tiling in my kitchen to wooden flooring and a painted staircase. All my furniture has to be machine washable to get rid of his muddy paw prints.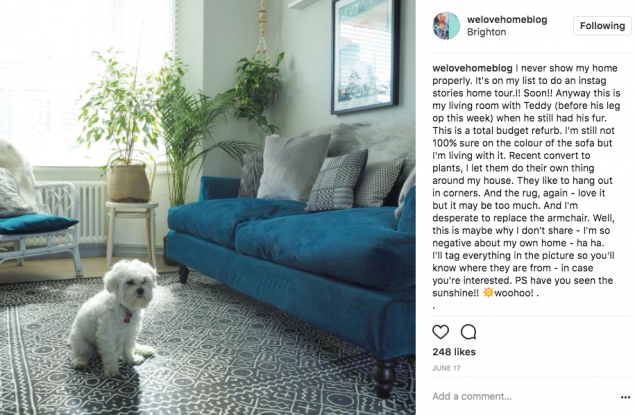 How integral do you think art is to interior design?
Extremely. Art can transform a room, add personality to a space and make a strong statement about who you are and what you love.
What do you surround yourself with at work or at home?
I love a scented candle burning away, or a fresh bunch of flowers. I always have music playing - so that I don't get cabin fever while I'm busy bashing away on my laptop.
Do you have a favourite artist or museum?
When I worked in london I used to go to all the museums in my lunch hour. The British Museum and the National Portrait Gallery are two of my favourites. When I'm away from home in a new city, I head straight for the galleries.
What do you think of online galleries?
They are a great way to see lots of art and shop around for artists you may not have heard of before. It makes art accessible for all.
Maxine Brady's Top 5 Rise Art Picks
I gave up smoking two years ago - I'd love this as a daily reminder of how good I feel now.
Love this cut up broken collage piece. These colours are so me. Plus Chloe is a hero of mine
3 Versilia 1985, Romano Cagnoni
I went to a strict catholic school and this piece reminds me of the chapel. I love the dark tones and the tumbled down topic. Also my home is full of black and white prints so this would sit perfectly.
4 & 5 Reflection and Autumn Fae, Paris Ackrill
Both these pieces make my heart beat faster. I love the panic/calm nature of them both. They would look amazing sitting next to each other in my hallway.