Kotaro Machiyama
Kotaro Machiyama is a Japanese artist who paints captivating abstract pieces. Kotaro works predominantly in acrylics, creating bold, colourful canvases inspired by the beauty of time and space. We love the alternative universe that the artist creates with colour and shape; each canvas sucks you into its own little world, overpowering both the eye and the mind.

The artist works as both a painter…Show more and an illustrator, having majored in Dye at the Tokyo Zokei University of Art & Design.

Kotaro has won a number of awards in Japan, including the Daikokuya Contemporary Art Award and the International Art & Design Visual Art Award at 6F Citizens Gallery.Show less
"The simplicity and beauty of Machiyama's works capture me every time. In one glance I think I see the detail of a much larger picture that Machiyama has zoomed in on, and in another glance I see a new graphic world, as if I have been transported into the most sophisticated cartoon. Either way, their colours and composition will make a statement on any wall."
Adriana Marques - Rise Art Curator
Artworks by Kotaro Machiyama

Stay in touch with me!
"Thanks so much for your interest in my work! I really appreciate it. Follow me to receive the latest updates and be the first to view my new works."
Kotaro Machiyama is featured in
Inside Scoop
Out of the Studio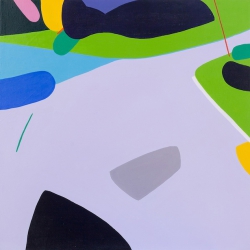 In the Studio
Out of the Studio