The benefits of discovering art online are manifold. From variety and efficiency to price transparency and more, the digital art marketplace is coloured with positive notes. Fancy a little virtual window shopping yourself? Here's our handy guide to discovering art online and its many perks.
Why buy art online?
Buying art online is a convenient way to peruse an array of artworks from all over the world. Over the last decade, we've observed a marked shift in consumer behaviour piloted by the rise of e-commerce and its dethroning of the high street. One shift particularly apparent in the art world is the transition to online galleries and stores. Collectors, especially millennials and novice art buyers, increasingly favour buying art online.
It's not news that even galleries now actively use online platforms to sell works of art by emerging and established artists - especially post-COVID. Major auction houses have transcended to the virtual realm too, with online auctions taking place regularly. This means there's a constant turnover of new and exciting art to choose from on the web.
With the expansion of virtual art dealerships and cultural platforms, it would be remiss to overlook the many online offerings when considering purchasing new art. Read on for five more benefits of discovering art online.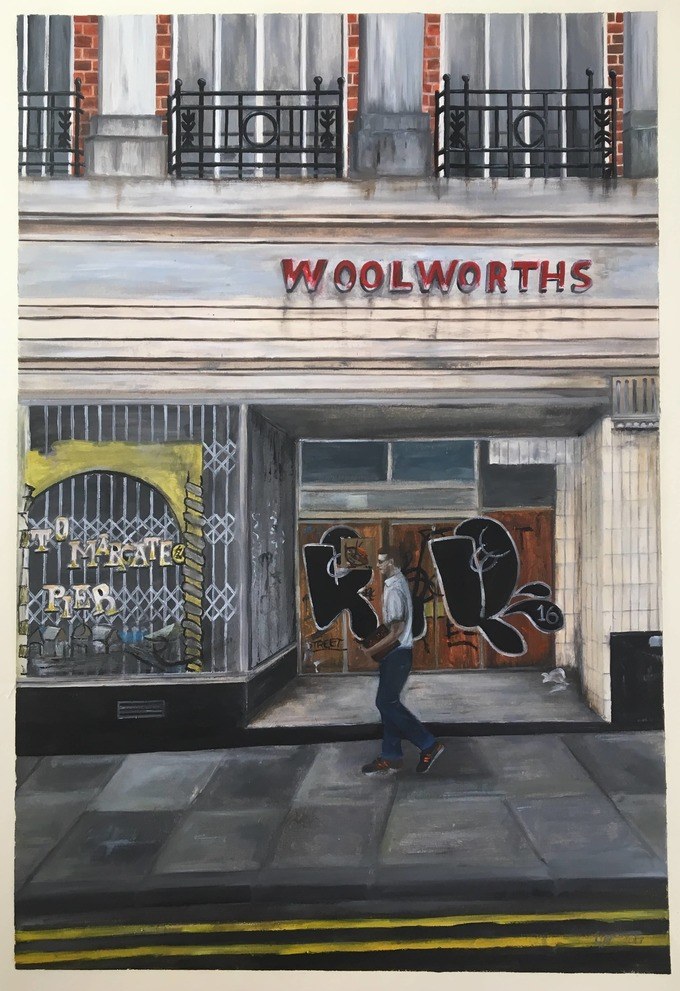 5 Benefits of Discovering Art Online
Variety
Among our top five pros of discovering art online is the undeniable variety of art on offer. The choice is endless. In the digital marketplace, you can scout an astronomical range of works - refining your search based on colour, style, medium or artist - from within the comfort of your own home. Thanks to the international scope of the digital sphere, you have the opportunity to take your art tour global without ever leaving your couch.
Efficiency
Let's be honest: discovering art online is attractive because it is objectively easier. It's more convenient to place orders online than it is to trek across town and spend several hours in an art dealer's lounge. With just a simple scroll and a few clicks, your chosen piece can be packed and on its way to your doorstep within moments.
Pricing Transparency
It can be hard to make heads or tails of pricing when you're a first-time buyer. Online, you can research other artists with similar styles or subject matter and compare prices. You also can find other artworks in the same colours and of the same size and use these findings to validate if the current offering price is justifiable. Some galleries add more than 50% to the original selling price set by the artist, so you could be saving a lot of dosh by purchasing online too.
Time to Explore
In a recent interview with Harper's Bazaar, Legacy Russell, a UK Gallery Expert, stated that "young collectors should know that it is okay to ask questions, to set boundaries (regarding budget), and to take a minute to think." The beauty of discovering art online is that - generally speaking - there's no rush. Often, if we find a piece in a gallery or shop, we feel immense pressure to make a purchase there and then - especially if we're new to collecting art. Shopping online reduces that stress, giving you additional time to decide whether the piece is right for you or not. Then, you can enjoy window shopping, rather than feeling you need to break down the window before someone snaps up your dream piece.
Trial It Out
Some online galleries allow you to rent art for your space with the option to buy if you like, or return if you don't. This unique proposition means you can test the feel of the art in your office, home or collection before taking the leap and splashing the cash.
5 Ways to Refine Your Online Search
Understand Your Space
First of all, know your why. Are you just looking for fun? To start a collection? Or are you seeking an art piece to match a particular room or space? Not that the above are mutually exclusive, but you should define your intent before beginning your search. If you are looking for a specific style or size, make sure you know the exact dimensions of where you want the piece to go and if the colours match your interiors.
To reiterate, give special attention to the various aesthetic components of both the artwork in question and your interiors, such as the colours, textures and size. Will the piece complement your room and the surrounding furnishings? Or is your aim to encourage contrast?
Look Within Your Budget
In an ideal world, budget would never be a problem. However, you don't want to find the piece of your dreams to then uncover a pricetag from hell. Try to filter your search by marking out your minimum and your maximum spend.
Research the Artist
Read artist interviews and follow them on social media. Discover the why behind their work and know why it matters to you too. Most importantly, does the artist resonate with you? Most online art galleries should have thorough artist biographies. These profiles should inform you about where the artist is based, their achievements and passions, and what they're most recognised for.
Find High-Resolution Images
Sometimes, pictures aren't an accurate representation of the item. This doesn't just go for art but for any online purchases. Kind of like that outfit that never looks as good on you as it does on the mannequin - the proportions are always off, and the colours never match! It happens. Make sure you find high-resolution images of the artwork on sale so you can zoom in on the details and get a good idea of the size. Likewise, make sure to thoroughly read the description and if something is unclear, ask questions!
Ask Lots of Questions
Following on from the latter point, don't leave any stone unturned. If you're unsure about an artwork, all trusted platforms should have a dedicated customer care team to help with any questions or concerns.
As with all things, it would be remiss to not consider the potential downfalls of discovering art online. Here are a few things to consider when researching art online.
Things to Consider When Buying Art Online
Credibility & Security
While the beauty of discovering art online means we have endless new information and resources at our fingertips, it can also mean the opposite. You may come across misinformation and unscrupulous sites.
The best way to make sure you are shopping on a safe and secure site is to make a point of looking for positive customer reviews and testimonials. Ensure that the website is a legitimate and verified source before providing any personal or payment details - that goes for making any kind of online purchase. If a website is secure, you should see a little padlock symbol before the web address in the search bar.
Delivery, Insurance & Returns Policies
One of the most daunting barriers to buying original art online is not seeing the work in person before it arrives on your doorstep. When considering buying artwork, read up on the delivery, insurance and returns policies available to you. You don't want to be stuck with a six-figure sculpture that you didn't bargain for!