Greenery: it's Pantone's colour of the year 2017, and it's taking the interior world by absolute storm, so much so that Airbnb has teamed up with the colour trend experts to create a home dedicated to bringing the outside in, complete with grass carpets, an indoor greenhouse and a woodland reception area. Now, I'm not saying you need to go all out like Airbnb - I mean that's a whole new level of dedication! However, styling with exotic art in your home is a wonderful way to infuse your space with a touch of greenery and achieve the trend of the moment, and we've selected some luscious and lively artworks to inspire you to do just that.
Illustrative Jungle Prints
Clare Halifax is renowned for her mesmerizing cityscapes, but she certainly doesn't shy away from nature in Barbican Narrow Pano. I love her use of clean, crisp lines. I often think of nature as inherently messy, but this print brings to life nature's intricate pattern work.
An Abstract Forest
If illustrative isn't for you, then an abstract work will inject zesty green into your theme without being quite so literal in art style. Vesa Kivinen's Enter The Forest is a large scale print full of deep, rich greens that are brought to life by the depiction of movement through layers. Personally, I would give this immense work a wall to itself in my home - it doesn't need any support to standout.
For a space that requires something a little less dominating, Green Synthesis by Reed Hearne would make a great addition to a gallery wall that displays a macro view of the natural world. I adore seeing the spectacular and often unnoticed detail of nature.
The Surreal Woodland
To capture all the vibrancy and energy of greenery, choose Untitled Landscape III by Edina Gulyas. The diverse range of green hues create light and shade, and the archway-like shape in the background creates depth to draw the viewer in. This is a treat for the daydreamer who likes to read or interpret the concept of an artwork.
The Estate is the first time I've seen Eleanor Cunningham's work and I'm such a fan! Okay, so it's not a woodland feature, but I adore how the chaotic distortion of the liquid frames a rather traditional and calm scene, providing a glimpse into an alternate world.
Impressionistic Jungle
Kerry Day's Ctenanthe Oppenheimiana is gorgeously simple to the eye but consists of a complex process of printing seven individual layers using the same piece of lino. This is a lovely print to brighten up a dull hallway, or offset a rustic wooden bookshelf to create a corner oasis. (Sorry, I was completely carried away in my own interior design dream there.)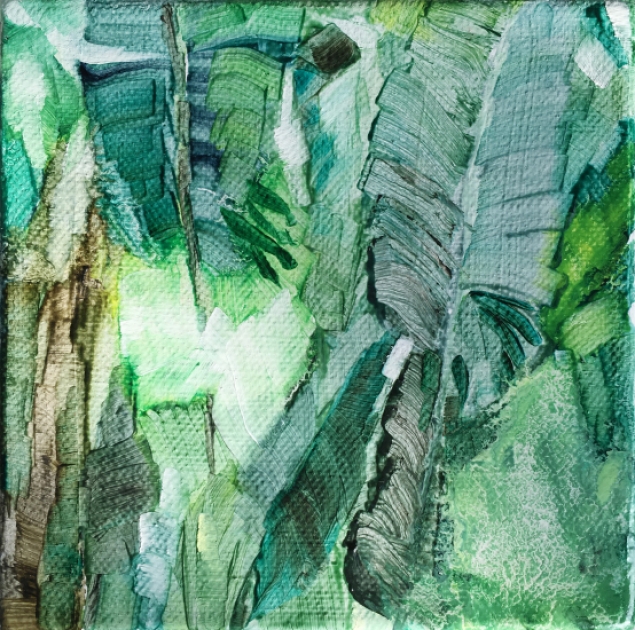 Bringing us out of my daydream is Jungle Spatula by Abi Box. The strokes of paint work together capture the unique pattern of the diverse foliage, combining shades of green that highlight the nuances of the natural world. This is a smaller piece offering a plethora of potential display options.
Surreal Street Art
Let's remember, greenery isn't just about the traditional fauna and flora. For the urbanites among us, feel free to inject your home with a Pantone Palette through modern means. Chiho Aoshima's Building Head Chamealeon print is utterly unapologetic in style, capturing a dreamlike jungle escape; the perfect piece for art lovers who enjoy the most fantastical of art.
Evergreen Expressionism
If you're not keen on the conventional, then Lilytub by Ian Butcher certainly has the wow factor. An original 3D photo collage, this style of work embraces nature in its most animated state, through its vivid colours and illusion of reality.
Exotic Animals
The exotic theme is all the rage in the interior and fashion world, with pineapples, flamingos and jungle print popping up in some of the most popular labels. Kristjana Williams brings the exotic to life with her fantastical illustrations that merge tropical birds and butterflies, offering an alternative approach to greenery.