Benjamin Jensen
I feel I've always made art in my life, as a result I see myself as a self taught outsider. From felt tip drawings and colouring books to illustrating, cutting and pasting zines, flyers and mix tapes together during my teens while involved in the punk/hardcore scene of the late 90's/early 2000's it all laid a foundation for where I am at this point.

My paintings have a raw edge, on salvaged…Show more wood and scruffy canvass they're not quiet, blend into the background hotel art, they're not a traditional stuffy greeting card art and they go beyond the stencil of urban art. They're paintings that don't sit quietly on your wall, they talk in tongue's and ramble in riddles. They spit obscene colours and ignore compositional rules. Inspired by music, films, cartoons, books, travel and personal memories I try to make some sense through a combination of painterly techniques, bold illustration and found objects, Visualising events to create narrative and add to the chaotic visual language.Show less
"Benjamin Jensen's paintings combine street art / graffiti style with more traditional techniques. The use of pop / punk art iconography alongside narrative traits creates a strong visual language. I believe creative audiences will find this work appealing."
Rebecca Gordon - Rise Art Curator
Artworks by Benjamin Jensen
Stay in Touch with Benjamin!
"Follow Benjamin to receive first access to new works for sale and the latest updates on events and activities."
Benjamin Jensen is featured in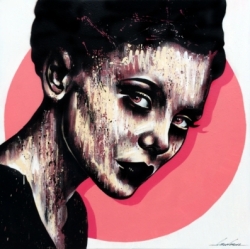 Inside Scoop