Meet Liz Lidgett: the maverick on a mission to get people adoring their walls. Anyone who shares the view that a room without artwork is simply unfinished is our kind of person. We interviewed Liz to find out what drives her to spend her days as a crusader against bland, blank walls everywhere, and why she believes art and interior design are a match made in heaven. Gape at her growing art collection (we'll admit we were more than a tad jealous) and be inspired by her unyielding passion for all things art and design.
Tell us about you & what you do
My name is Liz Lidgett and I am an art advisor and CEO of Adore Your Walls. We help our clients find the perfect piece of art for their style, space and budget.
What inspires you in your work and life?
I have been an art lover for as long as I can remember. The fact that I get to wake up each morning and head to a job that I love, helping clients who I adore, is a dream come true. I stay inspired because I have serious passion, but I love to travel and see new homes, cities, etc. to bring back amazing ideas for my clients. I am always so energized when I get back from a trip.
Is art & design important to you and why?
Absolutely. Great art can take you places, and great design can improve your life. I am so passionate about what I do because I know we can improve clients' lives by helping them fill up those blank walls and live with art. Our motto is #nomoreblankwalls.
What inspired you to start Adore Your Walls?
My art advisory company had been running for a few years before I started Adore Your Walls. I saw that there was a real need for art advisory work that dealt with affordable art. We create content for major brands, like BHG.com and MarthaStewartLiving.com about decorating with artwork. Our ethos is all about bringing great art to everyone.
How integral do you think art is to interior design?
Simply put, I think a room is unfinished if it doesn't feature artwork.
What are your top tips for a new buyer looking for the perfect piece for their home?
Spend some time on research. Head to your local museum and look at as much artwork as possible. It helps to know what you like and do not like. Make it meaningful. Get to know the artist you are buying from, or purchase artwork while you are on a wonderful trip. You'll love the piece forever if it truly means something to you.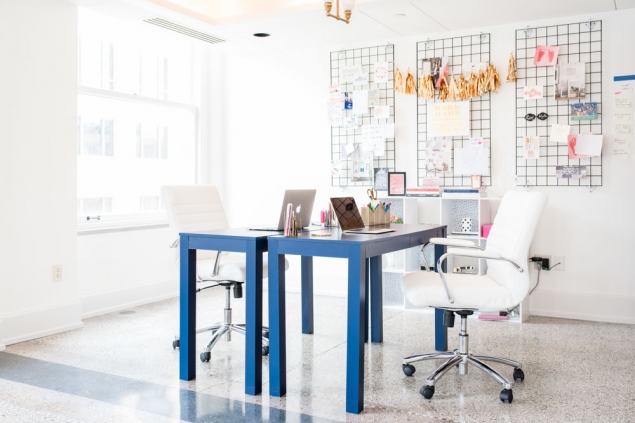 Do you collect art or anything else? If so what do you collect, and when and how did you start?
Yes! I have an ever-growing art collection. I also collect magnets from each museum my husband and I visit. We have quite the refrigerator full of magnets representing some of our favorite museums and favorite pieces of artwork. It started when we were right out of college and had no money for big souvenirs but could always buy a $5 magnet. It's continued to this day and we love still picking one out together.
Where's your favourite place to travel to?
I love travelling somewhere new with my husband. Europe, of course, is always incredible. We're currently trying to visit every single state and it's been such an amazing project to see how staggeringly wonderful and vast this country is. I've taken back so much inspiration from our travels that has fed into my work.
Photography by Liz Lidgett
What do you surround yourself with at work or at home?
Postive, happy, hard-working people. My friends and family are all this way and it helps that they understand the drive and passion I have for my business. We support each other in so many ways.
Do you have a favourite artist, museum or gallery?
Pretty much anything Cecily Brown touches, I love.
How do you work art / creativity into your daily life? What do you do to stay creative?
Traveling, going to museums, meeting new people, reading… I try to work art and creativity in many varying ways. It's one of the most important elements of my life and I feel like new experiences are what keep me on my toes and working at my best level.
Photography by Rick Lozier
Tell us your favourite motto or mantra
You have the same amount of hours in day as Beyonce.
Do you Instagram or Pinterest? Who do you follow?
I absolutely love Instagram and Pinterest. I love following other great designers, and artists. @JealousCurator is one of my favourite follows, she has a great eye. LACMA (Los Angeles County Museum of Art) has the best snapchat channel hands down.
Check out our interview with The Jealous Curator.
Liz Lidgett's Top 5 Rise Art Picks
1 And Then x6 Yellow Universe, Takashi Murakami
Years ago I went to a Murakami exhibit at the MOCA-LA when I lived in Los Angeles. I was completely taken by his work and imagination. This takes me right back there.
2 About the Dead, Either Well or Nothing, Magnus Gjoen
I am often attracted to high contrasts. This painting for example straddles the line of soft and dark.
The colours, the energy: it's got a vibe that makes me want to stick around with it and pick out words and meaning.
4 Chicas Technicolor, Sergio Artola
I have a soft spot for clever collage work and this is a really fun piece.
5 For JP Sartre 2009, Glenn Brown
Just like the Murakami, I love this piece because it takes me back to a favorite exhibit. Recently my hometown museum, The Des Moines Art Center, had a spectacular exhibit by Glenn Brown. I went back over and over just to spend time with those paintings.