Spray Paint art has made its mark on the art world mostly through the rising genre of street art and graffiti. But the versatile medium has a history in fine art, and continues to be used by artists painting in all genres. While working on my most recent book, The Art of Spray Paint: Inspirations and Techniques from Masters of Aerosol which came out in January with Rockport Publishers, I discovered the rich diversity of spray paint artists currently working in the medium. I've rounded up ten great pieces offered on Rise Art, showing the breadth of possibility created with the spray can.
Lowdown's mastery of the spray can enables him to create tight, painterly lines, graphic edges, and the misty markings that spray paint is known for. This gorgeous portrait is made entirely with spray paint - from her piercing eyes to the interplay of shadow on the contour of her face.
With a nod to the Pop Art movement (particularly Roy Lichtenstein), Diego begins his compositions by first hand cutting his own stencils. A former investment banker, much of his work revolves around the perversity of money. His bold lettering and vintage pin up girls are accentuated with the evenness of spray paint.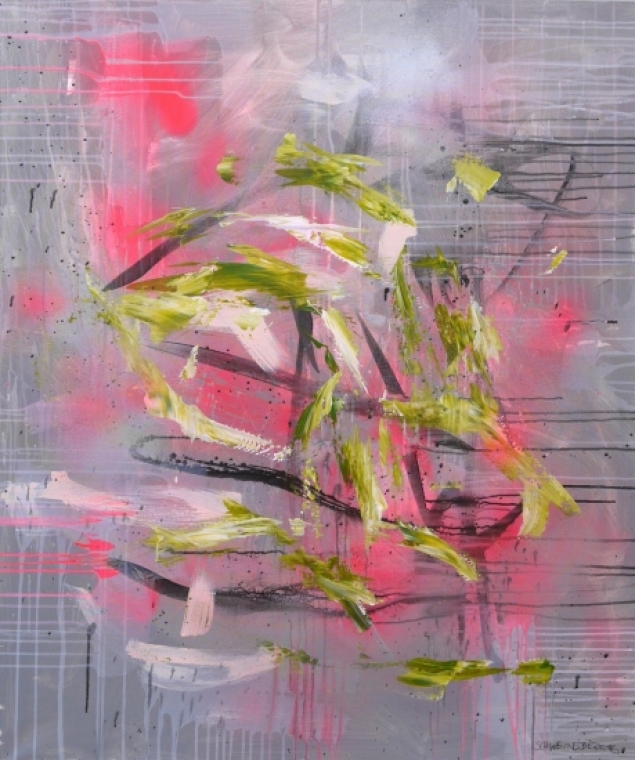 This abstract piece has dual contrasts - in color palette, as well as with material. The free-flowing, drippy property of spray paint gives an ethereal pink wash under gestural acrylic marks in green.
Jensen uses multiple mediums to create collage-like imagery that pulls influences from graphic design, architectural drawing, history painting and street art. This piece teeters between realism and fantasy, with perfectly painted figures interacting with flat, unfinished stenciled silhouettes made from drippy spray paint spurts.
You would never guess that Bloomfield first started making art (and using spray paint) writing graffiti on the streets of London. Snowy fields and figures are painted with crisp acrylic, while his moody, cloud-covered skies reflect his experience with spray paint, creating a darkly serene landscape meant for introspection.
Haverson's abstract works play with light rather than color. This heavily layered piece sends the viewer deep into space, with her carefully controlled splattered and sprays that give an atmospheric effect on the canvas.
Forgotten and disused industrial architecture is a familiar scene in any city or small town. Fowler elevates the rough beauty of these buildings with vibrant washes of color, that seem to give old bricks new energy and movement.
McConaghie's officer looks as if a graffiti artist apprenticed a great master, a meshing of art historical portraiture with the vitality - and loose strokes and streaks - of modern painting.
Discover our curated collection of street art picks. From spray can art to surreal limited edition prints, these works are guaranteed to bring a splash of urban colour into your home.