Decorating a child's room is the ultimate opportunity to escape the adult world and bring the imagined realm to life… For the kids, of course(!). Depending on the styles you choose, art can transform a dull and lifeless room into the embodiment of their wildest dreams, or create a soothing and relaxing environment perfect for those bedtime stories or study time.

Now, before you even start to decorate or purchase art, we've got some top tips on how best to incorporate a piece into your room designs to create a space that will be your child's own little sanctuary; to nurture creativity and help them to reach their full potential, whilst also providing a multi-functional space for sleep, play or homework… I know, it's too much!
1 Crocodile Clip Creations
Not all art has to be framed to perfection and for a kid's room a more playful approach might be more fitting. By creating a crocodile clip wall you enable flexibility with the artworks and the choice to personalize the display. You can mix up the art that they create at school with the art that inspires them. A clip art wall is also great for growing kids too as you can swap in artwork as their interests change. For younger children you could start off with gender neutral animal imagery such as Kristina Broza's playful hedgehog creations combined with their own attempts from school, and as they get older move onto the more bold and humorous characters such as Carl Moore's animal series, to strike a more grown-up cord.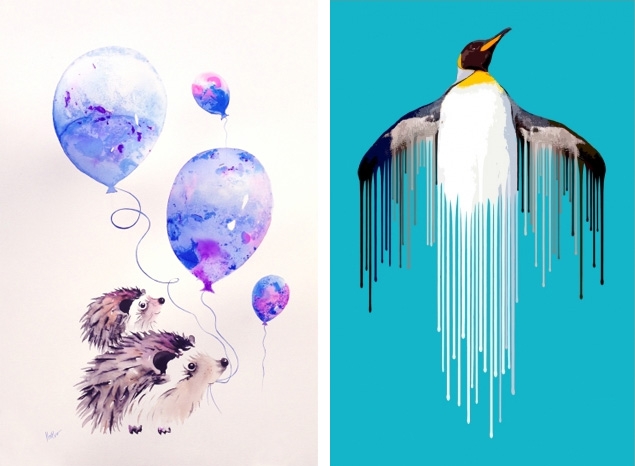 2 Light Up Their Life
One of the most impressive yet practical ways to bring art into your child's room is through creative lighting. It's guaranteed to garner the highly regarded "that's so cool" soundbite from their friends but it has a really practical effect of creating softer lighting for story time and instilling a sense of calm ready for sleep. I am the story time Queen with my niece and nephew and one of the first things I do to signal a change in purpose in the bedroom, from play-zone to sleep-zone is tone the lighting down to help relax them. Emma Harman's Rainbow Jet will really bring some magic into the bedroom but it also is not too glaringly bright to prove a distraction at night.
3 Learning Wall
If your child has a desk for completing school work, or maybe even a study zone in their room, then use art to transform this space into an area that is visually inspiring and will help create positive associations with learning. It's the perfect place to make learning fun! The best part about art in your child's room is that you can update the works as their learning develops. For infants learning about their environment you could choose themes such as animals, colours or vehicles to encourage recognition of the everyday world. For older children you can swap these for maps, historical or literary inspired themes to help them grasp more abstract ideas.
4 Wall Collage Collection
This little idea is perfect if you have varied styles of art that all differ in shape and size but your child really loves them all and wants them in the room regardless. By creating a collaged wall you can bring together works that will really stimulate all your child's senses. Having each artwork framed individually will bring the collection together to create a dramatic feature in the room. To recreate this look at home choose a selection of artworks with your child, don't worry about whether they clash or not as that is part of the fun. Once you've framed them all, set out how you want them placed on the floor before mounting them onto the wall so you can play around with composition and see what pieces mix and match well together.
5 Interior Inspiration
Let's face it; there are so many amazingly magical ways in which to decorate your child's room, why wouldn't you extend the theming of the design into the artwork that you choose? Sometimes it's the simplest of touches, such as extending the colour theme from your décor into your artwork or alternatively, merging the lines between art and design by combining the two so that, like this image, the art is an extension of the room design through clever hanging. These beautiful fairy works by Ellie Vandoorne could be hung in an enchanted forest themed wall to bring the magic of the fairies alive.
Feeling inspired to fill your child's bedroom with beautiful artworks? Browse our selection of works that have been curated just for that purpose, and find the perfect memorable gift that will last a lifetime.