We love degree show season. Throughout the summer months, week on week different art institutions open their doors to the public, showing off this year's most promising new graduates. Our curators have been running around London scouting each new show for talent, and they haven't been disappointed. We just can't get enough of it, and all of the hype has got us looking back on some of the recent grads on Rise Art to see all the exciting things they've been getting up to. Here is a list of 10 of our favourite recent graduates worth investing in.
Nadege Druzkowski
This talented French artist now spends her days in Glasgow, painting beautiful, almost melancholy landscapes. She is known for putting a contemporary spin on traditional painting techniques by using natural elements in the creation of her works, swapping brushes for leaves and branches. With a vast portfolio, a huge following on Rise Art and beyond, and several international residencies under her belt, this painter is wholly devoted to her practice and well worth collecting.
Olivia Peake
Olivia Peake is known for her edgy, urban artworks that use spray paint, acrylic and geometrical gestures as an interpretation of architectural structures. She's just about to graduate from her MA, with her final degree show at The Birmingham School of Art starting 2nd September. She informs us she's got plenty of exciting new works to release in the coming months, so watch this space!
Adriaan Van Heerden
Travel and wildlife photographer by trade, Adriaan journeys across the globe, from the African plains, to the rugged English coastline and everywhere in between, all in the name of photography. Dream career? We think so! He's snapped up several prizes for his wildlife photographs to date, and we love his works for their seamless combination of sentimentality and documentary.
Beomsik WON
With a formal art education based between both Seoul and the UK,
Beomsik
finally decided to settle in London, finding himself totally inspired by the architecture of this city. His mind-bending constructed works are painstakingly made, putting an elegant twist on an urban subject matter. His works have been featured in several art & photography publications in 2016 alone, so keep your eye out for more.
Charlotte Jonerheim
This tactile fine artist combines the mediums of sculpture and wall art to create dark, edgy and minimal pieces with a distinctly Scandinavian vibe. With such a depth of concept and craftsmanship these works are worthy of a contemporary gallery space, but still well suited to a home interior.
Alma Haser
There's a lot of exciting hype surrounding this photographer. After being shortlisted for the renowned Taylor Wessing Portrait Prize, her 'Cosmic Surgery' series has received multiple awards, and her crowdfunding campaign for a second project raised over £20,000. She'll be exhibiting the project with a book signing at The Photographer's Gallery on 14th July. Snap up one of her beautiful, painterly photographs before they disappear!
Eleanor Cunningham
Eleanor Cunningham
is an artistic magician who rarely reveals her tricks! She applies alchemic, alternative processes to landscape photographs in order to distort and liquify them, commenting on our growing disconnection with the world around us. With such a distinctive style and unique process this artist is set to go far.
Michelle Loa Kum Cheung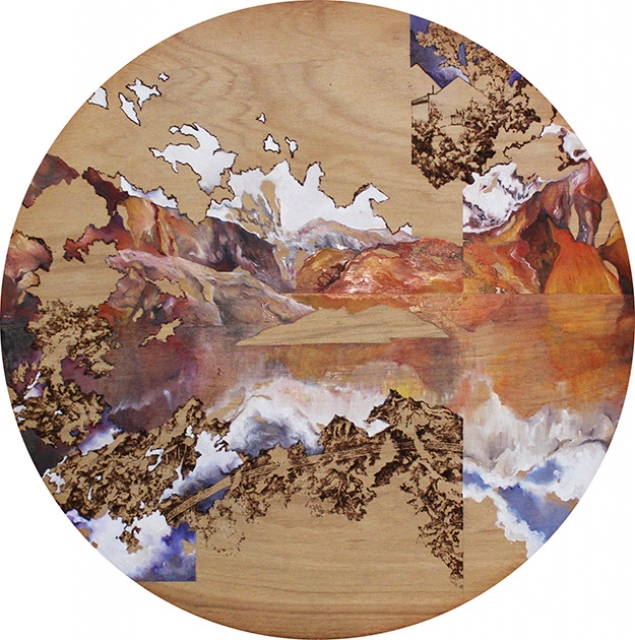 This young, up-and-coming fine artist creates beautiful, original pieces inspired by her own intertwined heritage. Using round, tondo style cuts of wood as a canvas, she then combines a highly skilled practice of pyrography and oil paint to sculpt surreal landscapes. She's recently taken part in London city's Dot to Dot art project and she has plenty more lined up too.
Ting Ting Cheng
Renowned photographer Ting Ting Cheng applies a sensitivity to her photographic practice, capturing carefully composed moments loaded with meaning. With several international awards, exhibitions and residencies on her CV so far, these elegant works are highly collectible and would make the perfect start to any collection.
Heloise Delegue
Self-proclaimed 'artist and existentialist' Héloïse Delègue paints large-scale original artworks that have a surreal style with an urban edge. Using light pastel tones and abstract compositions with a distinct painterly technique, she makes luscious, elegant pieces that you just want to take home.