Emily Kirby has recently joined Rise Art, bringing her paintings of semi-abstracted figures to the platform. She uses combinations of layered block colours to form her figures, often sculptural like. Having moved to and lived in different countries, her works often elicit a distinct sense of place and environment in which her subjects dwell. Emily's work exhibits connectiveness and sensitive appreciation of places she knows well, and frequently returns to in her work.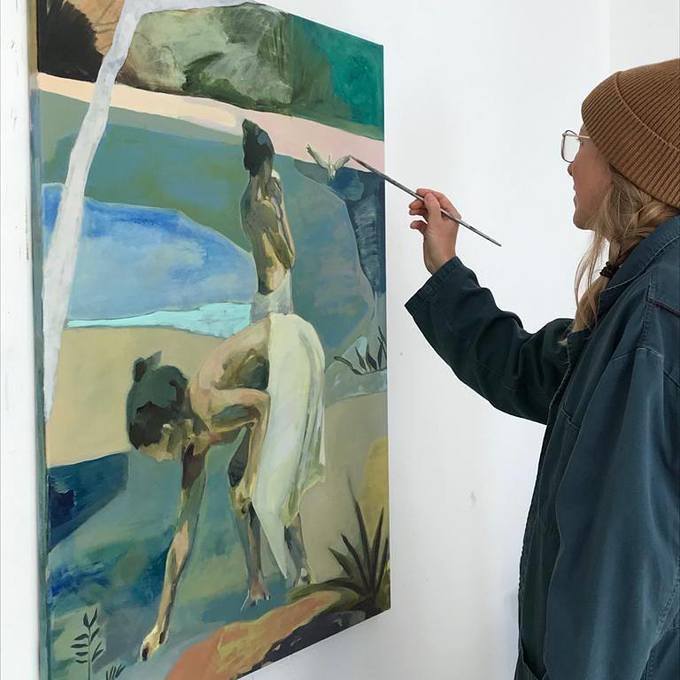 How would you describe your style and the work you create?
My paintings are mainly figurative, moving between abstraction and representation. They are often based on both real and imagined experiences. The figures dwell in dreamlike landscapes. Whilst the narrative is open for interpretation, the inspiration in my recent work begins with a desire to tell queer stories.
Tell us a bit about the inspiration behind your practice
Imagination is something that I'm really trying to bring into the paintings, landscapes intertwined with subjects that are close to my heart and lived experience.
At the moment, queer lives and representation is definitely important to me, the natural world is also a huge inspiration in my work. At times my work approaches the two subjects separately and other times, I'd like to think, my work is delving into the relationship between the two: queer lives and the natural world.
How do you go about choosing the subjects and scenes for your paintings?
As a starting point, I often draw on memories of people and friends I know. It can also be a place I've been or somewhere I've imagined as the painting progresses. As the work starts to form, a dialog begins and I enjoy responding to abstracted shapes that can appear. I also use found images when I need to reference a figure for a painting.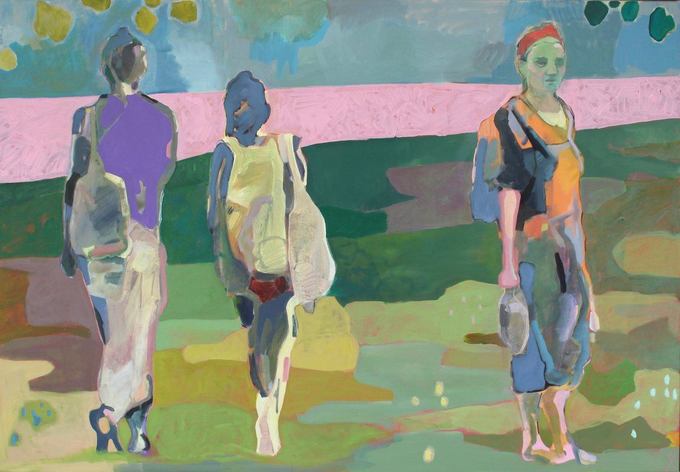 How has your practice evolved in recent years?
It's definitely become more experimental. A lot of my work used to be comprised of a single figure isolated within a simple background, all of the painting existed within the figure. I'm now bringing in landscapes to compose a scene, single figures and portraits are still there, but I've become more interested in playing with narrative.
What's an average day like in your studio?
I'm a daytime painter. I live near the beach so mornings are on the beach usually and then home to paint in the studio from midmorning. Depending on deadlines I can work into the night when the pressure is on though. I do like to be flexible, I think it's important to allow yourself to live a life outside of the studio that's going to feed and inform your work.
What/Who are your key influences?
I've been lucky enough to grow up around a lot of artist's on both sides of my family, my Dad, Grandmother, Uncle and Step Mother are/were all painters. I started exhibiting with my step mother, Radu Tesaro, in Czech at the start of painting full time, she was hugely influential and helped me grow in confidence as an artist.
I was born in Zambia, it was a great opportunity to spend time painting with my dad who lived out there, he taught me a lot. I have been lucky to be offered shows with galleries in Lusaka, including the 37d Gallery, who were and are also immensely supportive.
I've been living in London, Madrid and Hove over the past fifteen years. My wife is Spanish and our lives together and times spent with friends all feed into my work.
Who are some Rise Art artists with work you're enjoying at the moment?
I really enjoy the work of Serena Singh, Barbara Kuebel, Philip Maltman, Charlotte Roseberry, Dawn Beckles, Phoebe Boddy at the moment.
Are you currently working on any exciting new projects?
I have exhibitions in the pipeline for next year that I'm really looking forward to.
The first is a show at 2 Gresham Street in London from January to May, with VJB Arts. I enjoy exhibiting in big spaces, it's a good opportunity to work on some large scale paintings.
A solo show is also planned with a new gallery that I'm looking forward to working with in London next year, although I can't announce details just yet.