Katie Woods wears many hats. She's an interior design enthusiast, a successful blogger, a dentist and a mum of four. In 2016 Katie started her blog Come Down to the Woods to document the renovation of her new family pad, the Peach Palace - so named because peach-heavy 60s decor dominated its interior. Katie has spent the last two years transforming the house into a stylish home bursting with character, colour and art. Lots of art.
Katie's eclectic collection of portraits, neons, prints and sculptural pieces have given the Peach Palace of the past a whole new personality. We ask Katie about what inspires her art choices and how she goes about finding the next piece. Plus, we find out which are her favourite picks on Rise Art.
When did you start collecting art and why is it important to you?
I spent my 20s and early 30s thinking that art wasn't affordable. I would pass galleries and avoid art websites just presuming it would be too expensive. It's not until relatively recently that I've realised this just isn't the case. Some of my favourite pieces have been the less expensive ones. I wish that I'd started collecting earlier.
You have an eclectic collection of artwork at the Peach Palace. How would you describe your taste in art?
Unpredictable! I was lucky enough to be given a voucher for a piece of art and most of what I had saved as favourites took me by surprise. Art is like that, you think you know yourself and then something that you don't expect to love comes along and you can't stop thinking about it.
What are two of your favourite pieces in your collection and why?
I am literally obsessed with Andrew Millar. I adore the delicate gold leaf. His pieces are just mesmerising. I also love a canvas by @houseoffiv5 that I've had framed. She's a Dutch artist who I commissioned to produce this piece. It's a bit cheeky but perfect for our home.
When you're looking for your next piece, where do you start? Do you think about the space first or do you find an artwork you like and then decide later where you'll place it?
I always look for pieces that make me happy before I look at where they will fit. You have to LOVE what you choose.
What's more important when choosing a work of art, its potential investment value or how much you like it?
I've never once thought about investment. William Morris said, "Have nothing in your house that you do not know to be useful, or believe to be beautiful." I always look for beauty first. If it happens to become useful by increasing in value then that's just a bonus.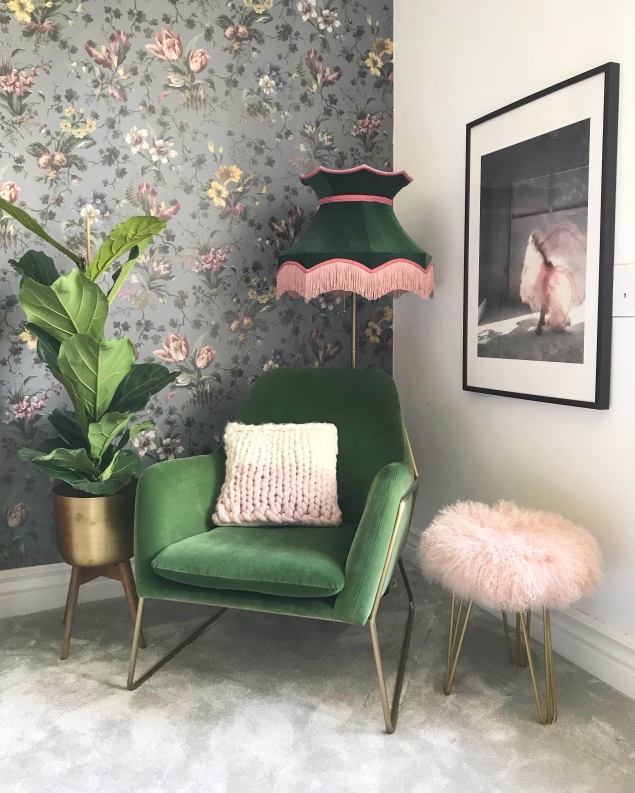 What are your ambitions for the Peach Palace going forward?
This house is like the Forth Road Bridge. It's so lived in (what with 4 young kids and a big hairy dog) that as soon as one room is finished another needs doing. I put so much time and thought into the design of this place though that I just want to enjoy what we have. Saying that, there is another floor that we haven't touched. I can't wait to get my hands on that (just need the money tree to flower first).
What are your 5 favourite works on Rise Art at the moment, and why?
Because pink and green should always be seen.
This work is monochrome perfection. Simple and captivating.
These colours and this composition are guaranteed to brighten your mood.
There isn't a piece of Miguel's that I don't adore. Forever fun.
I don't even know how I feel when I see this, but it makes me feel and that's why I love it.