For Vinterior Founder and CEO Sandrine Zhang Ferron, it's all about vintage. When Sandrine was looking for furniture to deck out her new London home, she found it difficult and time-consuming to source quality vintage pieces. Inspiration struck - what if you could browse a whole collection of unique, high-end pieces in one place? Sandrine left her career in investment banking to found Vinterior, a curated online marketplace for quality pre-owned vintage furniture.
Sandrine's sense of style isn't just limited to her choice in furniture, and like her taste for interiors, her taste in art is eclectic. Find out what kind of works Sandrine collects and discover her top pieces on Rise Art.
What inspired you to start Vinterior?
Whilst looking for furniture for my new home in north London, I got really frustrated. The lack of character, the mass production of flat packs and the consumerisation of the industry in general all meant I wasn't finding what I was looking for.
It was taking up a lot of time visiting individual furniture boutiques to find that perfect piece. That's what sparked the idea for Vinterior - an online marketplace that brought together independent boutiques with those looking for remarkable furniture, in one place.
What is it about the vintage look that you like so much?
For me it is about combining styles and eras, and playing around with what works with your personal space. It means no home looks the same, because you can find and collect items that speak to you. Vintage allows you to have a really eclectic style and show off your character.
I also love classic design pieces, like the Spanish Chair by Børge Mogensen. With those you get history and a story - something you don't get with most of the mass produced new products that are out there.
What role does creativity play in your life and work?
Creativity plays a big role at home, with regards to both my interior style and my cooking. In terms of work, I think creativity is sparked from the extensive reading I do. I read something that captures my imagination and then this provokes conversations and discussions with my team.
Do you collect any art? If so, what are your artistic tastes?
Like my home, my art taste is eclectic and I buy what grabs my attention. I like photography and colourful prints. In my house in Majorca I have beautiful photos of the island by a local photographer. My only 'collection' is art from my home country, China.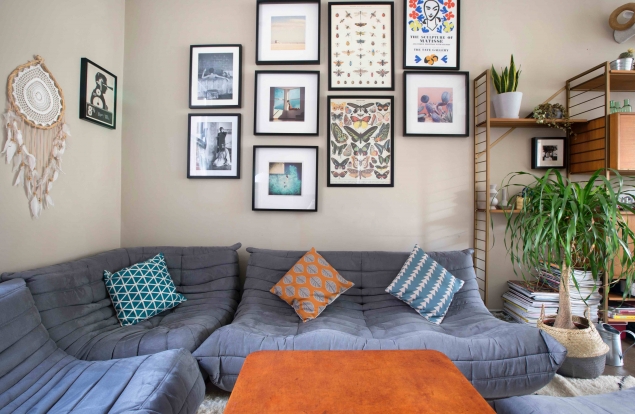 In the same breath, I am a fan of really quirky artwork and I have a pair of prints by Human Shaped Robot that portray my love of food (they are portraits with meat hair!).
How do you think furniture and art can work together in an interior?
Furniture and art are very personal and styling particular pieces together can be right for one person, and wrong for another. But furniture and art definitely do work hand in hand, so it's about finding the combinations that work for you and your household personally.
Do you think online marketplaces are the way forward when it comes to collectibles like furniture and art?
Social platforms like Instagram are making viewing other people's homes a norm. Expectations of one's own spaces are getting higher and higher, and people want to create wonderful spaces with design pieces or 'instaworthy' pieces to showcase, share and enjoy. Combine this with a society filled with time-poor and tech-savvy people, and you can see why marketplaces like Vinterior and Rise Art are becoming the popular way to buy furniture and art.
Which are your top 5 pieces on Rise Art, and why?
I visited Cuba 10 years ago and loved the vibe in Havana, with its mixture of nostalgia, the tropics and America. This artwork is an interesting way of representing the multifaceted nature of Havana.
I'm obsessed with plants at the moment and I'm buying new ones every week to build an indoor tropical jungle at home. I would love to mirror this with an artwork that features some greenery. Karenina's loveley piece would tie well into my collection of pot plants in the living room.
I love the abundance of greenery in Paris's photograph. I can imagine this nude working really well in my bathroom.
My husband is a major fan of aerial photographs of the beach. This work by Tommy Clarke would be an ideal gift for him.
I love the contrast between the bright, colourful dots and the traditional black and white style of photography in this work by Naomi Vona.