Abstract art, in practice, is the creation of artwork that does not explicitly represent reality but uses a multitude of shapes, colours, forms and marks to achieve an effect. The style evolved throughout the 1900s, giving way to sister movements such as Expressionism, Abstract Expressionism, Cubism, Orphism, Suprematism, Constructivism, Automatism, Colour-Field Painting, and more still. With its many modes and materials, the abstract system has yielded some of the world's most-loved and memorable pieces of all time. Here are some examples.
Wassily Kandinsky, 1866-1944
An early pioneer of European Abstract Art, Russian-born artist Wassily Kandinsky wanted to free art from the confines of mere depiction. Instead, he aspired to use colours, lines, shapes and gestural marks to create a unique visual language capable of expressing ideas and arousing emotion in onlookers, much in the same way music stirs listeners. His pieces, such as Cossacks (1910), linked musical tones to colours, resulting in melodic and moving painterly displays.
Hilma af Klint, 1862-1944
Although widely regarded as the forefather of artistic abstraction, abstract works by Swedish artist and mystic Hilma af Klint preceded those of Wassily and his peers. Despite the radical nature of her works, though, Hilma hid much of her practice from the public eye, convinced that the world wasn't ready to comprehend her creations. Her works remained largely unheard of until over three decades after her death. Greatly inspired by spirituality and theology, her colourful and revelatory paintings - such as the series The Paintings for the Temple (1906-1915) - continue to gain long-overdue precedence in the artistic canon.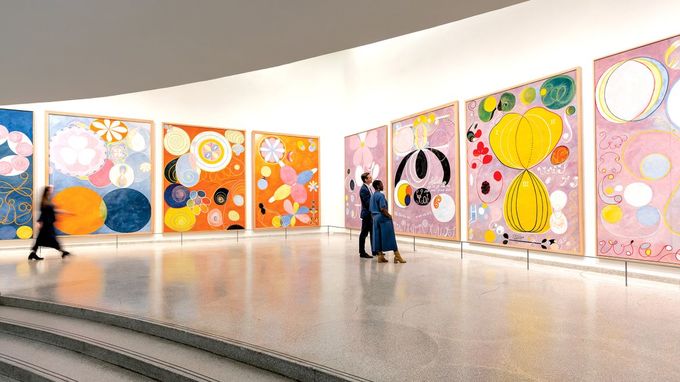 Piet Mondrian, 1872-1944
Dutch painter and art theoretician Piet Mondrian began his career painting realistic landscapes before being influenced by Pointillism, Fauvism and Cubism. One of his most famous pieces, The Grey Tree, illustrates a significant shift in his practice from Figuratism to Cubism. His later works transitioned into an even more simplified, abstract style called Neo-Plasticism, a technique restricted to the three primary colours and grids of black crisscrossing lines with white backgrounds. For example, Composition B (No. II) with Red (1935).
Fahrelnissa Zeid, 1901-1991
Turkish artist Fahrelnissa Zeid was one of the first women to enter art school in Istanbul and is lauded for her large-scale abstract paintings. Distinguished by their dazzling, kaleidoscopic patterns, her paintings blend elements from Byzantine, Arab, Persian and European influences. References to mosaics, stained-glass windows and Islamic architecture abound in works such as Fight Against Abstraction (1947). A key figure in Western European and Middle Eastern Modernism, Fahrelnissa was heavily involved in the ​​avant-garde art movements in Istanbul, pre-war Berlin and post-war Paris.
Joan Miro, 1893-1983
Inspired by the Freudian notion of free association (the desire to reveal the workings of the unconscious mind), Joan Miro practised the liberating style of Automatism. This branch of abstraction enabled artists to develop their own sign language, giving illustrative form to their emotions. Joan used simplified shapes and coalesced expansive ranges of colour, as seen in oil-painting The Tilled Field (1923–1924), a visual metaphor for his homeland. Joan applied colours to paintings like writers devote words to poems, laying the foundation for the Abstract Expressionist movement to come.
Pablo Picasso, 1881-1973
It would be amiss not to mention Pablo Picasso. The artist believed that work would keep him alive, and he was quite right; he now lives on in our memory as one of the most influential artists of the 20th century. Alongside George Braque, Picasso founded Cubism, a significant chapter of Abstract Art history that broke away from Renaissance tradition and its perspectival constraints. As seen in Bowl of Fruit, Violin and Bottle (1914), Cubism showed subjects from multiple angles on the same canvas.