Matching artistic tastes can be tricky. If two people disagree on a piece of art, it doesn't mean one of them has bad taste. Our preference for art styles and mediums is incredibly personal; we're not always on the same page as our loved ones or co-workers. Need to resolve different tastes? Here's how.
How to Resolve Differing Artistic Tastes
Everyone has their preferences when it comes to art. Whether your heart beats faster for realism or surrealism, or you go cold at abstract and expressionism, there is no right or wrong way to feel when it comes to art.
Resolving different tastes can, however, be a bit of a balancing act. Buying the perfect artwork can elicit a few fiery debates, especially when more than one person has to look at the work every day. So, how can you find a happy medium? And, if you can't call a truce, how do you convince your opponents?
More dialogue, less drama
A lot of drama can be avoided by a little communication. Discuss your style and decor tendencies with others. While, on the surface, you can lean towards different movements or vibes, you may be able to find some common ground. Bringing together different inclinations and artistic drives can also create something incredibly unique, resulting in original accents, textures or colour schemes at home or work.
Step out of your comfort zone
Sometimes, we don't want to purchase artwork because it feels too risky or different. We can get so attached to our self-defined tastes that we hinder our ability to try something new. Anything unfamiliar sets off our risk-aversion alarm, and we say no before we've even had a proper look at the artwork. Try to be more fluid when it comes to looking for new art. Unless you're specifically looking for a piece to match a collection, don't feel like a previous purchase has to define every purchase to follow.
Go to exhibitions and get inspired!
One way to explore new styles and (maybe) come to a compromise is to go to exhibitions. Exhibitions are a great way to whet your design appetite and discover contemporary art and artists. You might see an unexpected style or medium that you and your other half or colleagues adore.
Explore a variety of different artists
In the same vein, investigate new and unfamiliar artists. There are tonnes of emerging and lesser-known artists producing fascinating and inspiring works of art. Discover the artists making waves online, in local galleries or in virtual showcases.
Take your turn
Another option is to take it in turns to buy art for your home space or office. If you have the budget, you could rotate who decides on a new piece annually or biannually. Not only does this lend itself to an exciting and varied selection of artwork, but it gives everyone a chance to find and buy art that suits them.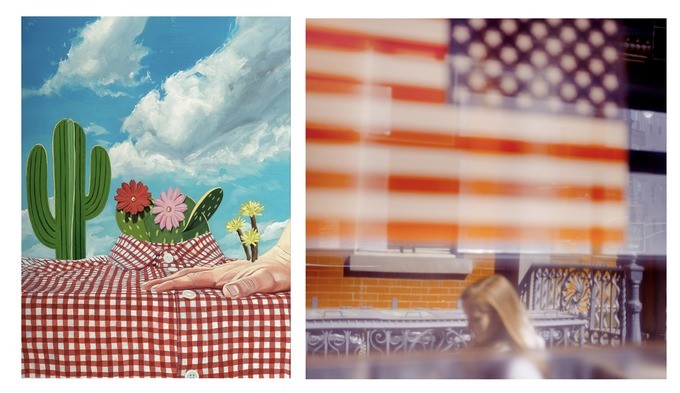 Try-before-you-buy art
Some galleries and art stores have the option to try-before-you-buy or rent a piece before making a purchase. If you're undecided, this can be a great way to trial artwork in your home or the office before making any long-term commitments. This is particularly useful in shared spaces because you can gather multiple feedback and hopefully find a piece that resonates with the vast majority.
Discover Your Art Personality
It can be easier to match artistic tastes when you have the artistic vocabulary to express what art you actually want to rent or buy. That doesn't mean becoming a master of gallery jargon or becoming the next Clement Greenberg; it means being able to verbalise and demonstrate what art you like.
A fun and simple way to understand your artistic fancies (so you can refine your search) is the Rise Art Personality Test. You can find similar revealing quizzes on leading gallery websites such as the Tate. So, what do your visual preferences say about you?