Tim Crooks
Tim Crooks is a photojournalist who documents the institution. He invites the viewer to explore derelict spaces, where we're confronted by signs of recent human occupation: a suitcase, or a jacket waiting on a wire hanger. Crooks is particularly interested in tapping into our fears through photographs of the asylum.

We were really impressed by Crooks's photo essay 'West Park Asylum', and…Show more pleased to offer prints for sale. West Park was a psychiatric hospital opened in Surrey in the 1920s. It was known as "the last great asylum built for London's insane", and over 2000 patients lived there at any time. It finally closed in the 1990s, and after several years of abandonment, is being redeveloped into housing.

Crooks's photographs of West Park are aesthetically interesting, full of texture and depth. The large-scale square format intensifies the feeling of institutionalisation. There is always an underlying sense of confronting the uncomfortable.

Crooks is based in Hampshire.Show less
"In the simplest of terms, Tim's photographs capture beauty within the wasteland of abandoned and deteriorating institutions. Beyond that aesthetic lie the bigger questions which Tim's photographs demand the viewer to answer. What is the roll of the "institution"? How have we dealt with the needs of the ill in the past? And how does our society address or fail to address those needs in the future?"
Kathryn Roberts - Rise Art Curator
Stay in Touch with Tim!
"Follow Tim to receive first access to new works for sale and the latest updates on events and activities."
Tim Crooks is featured in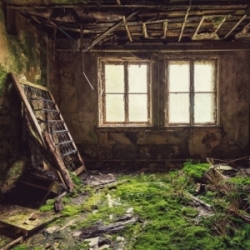 Inside Scoop