Artists on the Rise is a new series, created to share the most exciting emerging artists of the moment. Every month our curators will be spotlighting their top artists to watch, helping you discover artists to follow and art to collect.
In her own words, Milena Paladino is "an artist of silence, small gestures and simplicity." Her embroidered still lives respond to domestic objects and pared-back compositions, in which a sense of delicacy and harmony prevail. Adhering to a muted palette of wools and cotton yarns, Milena uses a punch needle technique to punctuate her observations with subtle textures.
In Milena's practice, a minimalist approach is employed in style, colour and composition, all working together to conjure up a purity of form. In her search for this specific type of purity, Melina seeks to reflect elements of the human condition, capturing feelings of sensuality, tenderness, clarity and silence.
Holly Mills
Holly Mills is an interdisciplinary artist working across painting, drawing and printmaking. Holly depicts her memories in her practice, and in reimagining these memories, she transforms them into something else. In presenting the many ambiguities of memory, Holly conjures up new narratives and weaves lived and imagined experiences together.
Familiar motifs and symbols reoccur throughout Holly's work, from floating bodies and plants to swirling shapes and hazy planes of colour. Each work she creates is connected to another through form, palette or narrative. Holly's work is presented by Mothflower and in 2018 she was named a Finalist for The Ingram Collection Young Contemporary Talent Prize.
Georgina Clapham's paintings are detailed observations and interpretations of contemporary and classical cultures. Commenting on everything from fashion, the artificial and sexuality to Greek Mythology and Folklore, Georgina's work is an amalgamation of the new and the old, and the subtle and the bold.
There is an element of the bizarre that runs through Georgina's works, in which she plays with traditional tropes and subverts expected visual experience. She examines the notion of beauty in the same way she explores the grotesque, often combining the two to rework existing narratives.
Lera Dubitskaya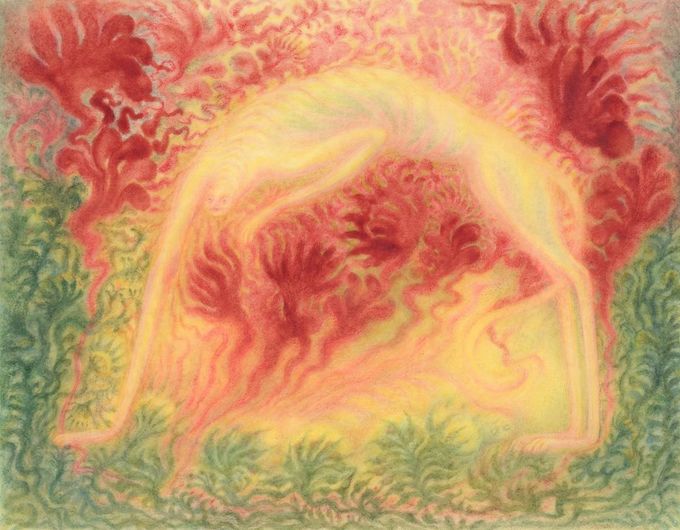 Warsaw-based artist Lera Dubitskaya depicts ethereal and fantastical worlds with a distinctly painterly approach. With an intricate application of paint and considered use of colour, Lera forms scenes of nature that seem both imagined, and a response to real life.
Many of Lera's works take inspiration from Medieval tapestries, alluding to fairy tales and old folklore. Together with her atmospheric depiction of nature, Lera's paintings straddle the familiar and the unfamiliar.
Tonino Gottarelli works in a style that is both detailed and abstract, inviting an open interpretation of his work. There is an unfinished quality to his paintings, lending itself to the somewhat unrecognisable settings he depicts. It is through his hazy execution that Tonino distorts the details of his subjects and presents them as images that are both familiar and unrecognisable.
Tonino gives his landscapes, nudes and still lives simple titles, often explaining an element of the painting or collage. In Trees in snow / Alberi sulla neve, he grounds abstracted shapes and gestural brushwork in a sense of place, whilst still holding back information and leaving the rest of the piece for the viewer to examine and interpret.