The fantastic Kristjana S Williams is currently hosting a pop up at London's iconic Harrods store, showcasing a series of her paper cut originals, limited edition prints and her latest incredible 3D globes. If you're around and about the city this weekend, don't miss her Mask Making workshop (details below) for a chance to meet the artist and make your own work of art inspired by her stunning, tropical florals.
We managed to pin down Kristjana for an exclusive quick-fire interview. Go behind the scenes into her studio and see the artist in action in our exclusive video interview, and read on to find out what art means to her.
Tell us a bit about the processes you use to create your work. What visions and inspirations are behind it?
When I began making art, I would draw most of the elements and illustrations by hand, but I later discovered the technique of Victorian engravings which I was able to recolour and reinvent to keep each piece individual. I started to combine these with my old love of maps, and was really pleased with the result. I am greatly inspired by nature, but also the energy of London city really influences me.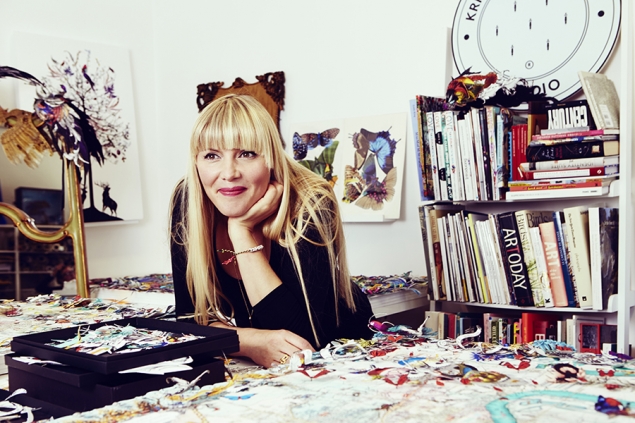 When did you know you wanted to be an artist?
When I was younger I wasn't sure whether I could pursue being an artist as my main profession, therefore I made a living through electronics and other things. Things started to change when I later gained a place on the Illustration Course at Central Saint Martins.
What was the first artwork you ever made?
Ink Forest, which was originally a fabric design on a 1.4m x 1.4m scale and later became an artwork. This was probably the first piece I created.
You've completed several commissions in London and beyond, do you have a favourite?
The Knowledge in London's Iconic The Shard building is a good favourite of mine. It was exciting to see the finished piece go up and the way the Thames river is lit from behind makes it quite special.
What do you love most about making are & what do you hate about it?
I find the process of creating art very therapeutic, but it's also like an adventure. With every piece you make you learn something new and discover something different. I don't think there are any real aspects of making art that I dislike. I suppose it can be time consuming but I think it's necessary to dedicate the time to ensure you're truly pleased with the final result.
How long does it take you to complete one of your 3D London maps?
It takes me about 3 - 6 months to complete a 3D London map.
Give us a quick one like about your studio space - what do you love about it?
The studio is constantly busy, there is always something exciting going on! We have been in this studio for just over a year now and the space is great, we are lucky to have huge windows which flood the room with light.
What's playing in your studio right now?
I listen to a lot of meditation and relaxation music when I work as I find it helps me focus.
Tell us about your Mask Making Workshop this weekend
Our team would love to invite you to a Mask Making event this weekend. Join me in-store at Harrods, London to create your own spectacular work of art!
19th May - 20th May, Fine Art & Stationery, 2nd floor: 2-5pm
Please email maskmaking@harrods.com to confirm your place.