Many of us city dwellers sacrifice a lot to be in the centre of it all - including wall space. Yet, despite our lack of areas for display, you can still build a meaningful and enjoyable art collection that will feel at home in yours. Scale back, think small, and build that diverse collection you've always wanted.
1 Bulk up with a grouping
Just because you have less wall space, doesn't mean you have to choose just one or two key pieces to exhibit in your home. Instead, think small! Groupings can look great with four or five medium sized pieces, or even with up to twenty varying sized art works. The key to making any grouping look great is balance.
2 Pick a centrepiece
For particularly small apartments, many choose an ornate mirror to be the center focus piece, as it can widen the viewing area, reflect light, and of course is functional! This is also a great place to feature a larger work in your collection. Use this piece as the "lead" piece for picking other artworks.
3 Choose a Theme
In order to create a cohesive flow to your grouping, choose a loose theme. This is not as limiting as it sounds! Think about geometry, tone, color, medium. Do you want your grouping to be bold and enigmatic? Romantic? Abstract, or serene? Keep these in mind while you curate your own grouping.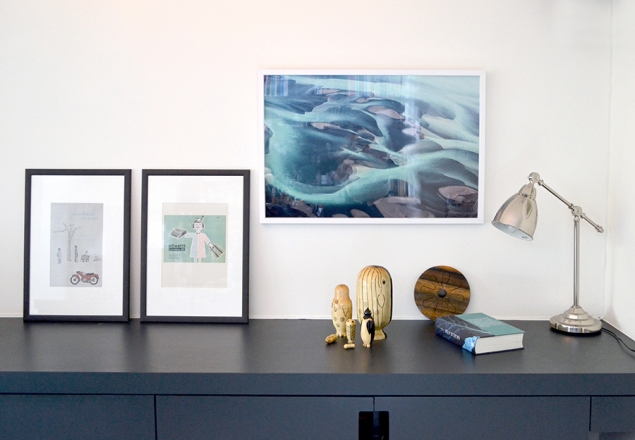 4 Size Matters
All of the pieces in your grouping don't have to be the same size, in fact the best groupings alternate between extra small and medium pieces. The key here is balance. The best way to create a harmonious grouping is to first lay it out on the floor in front of the wall you will be mounting on. Using your center piece as a focus, arrange each side to reflect the other, and don't forget the measuring tape. This doesn't mean you have to mirror each side of the configuration, just be aware of the dialogue that each piece will create with the other.
Get the Look
I've scoured the Rise Art gallery, curating a selection of works in an array of sizes that I think would create a stunning salon-style grouping, no matter how small your space.
Feature a Centrepiece
A romantic floral by Smith brings roses, golds, and pattern to set the theme.
Dramatic Diptych
Choose two works by the same artist to tie one side of the grouping to the other, the gilded color ties into the lead piece.
Stagger and Match
A historic piece with a modern edge to create dialogue with the Polaroids.
Consider modern photography - choose timeless, black and white pieces.
A black and white element that brings some fauna into the flora of the lead piece.
This collage adds glamour to the grouping while continuing the floral theme.
Bring Shape with a Tondo
Experiment with shape by adding a variety of round pieces.
Then, echo the circle with a square piece with circular details.
Lead with Colour
I love how this gilded owl sticks with the theme, but also shows the beauty of nature.