It's November, the days are shortening and the air is definitely getting colder and although the twinkle of Christmas is just around the corner, it's the perfect time of year to add some light to your life with artworks that uplift and inspire. So Antoinette Williams has picked out 5 of her favourite artworks that do just that and tells us exactly why art like this puts a pep in our step.
In the midst of the modern hustle and bustle, many of us maintain routines to keep us at maximum efficiency. Nonetheless, routines can quickly become mundane and tiresome, and we find ourselves in desperate need of re-energsing our daily inspiration. And what better way than with art? Numerous studies have found that colors and patterns can affect our perspectives in a variety of ways, and choosing artworks that speak to you particularly is really important. Surrounding yourself with art that inspires a range of sentiments is a great way to expand the mind, allowing the opportunity to intimately examine each work against the backdrop of ranging emotions. With that in mind I've picked out a carefully curated selection of delightful artworks that are sure to elevate your day, and add some extra fun.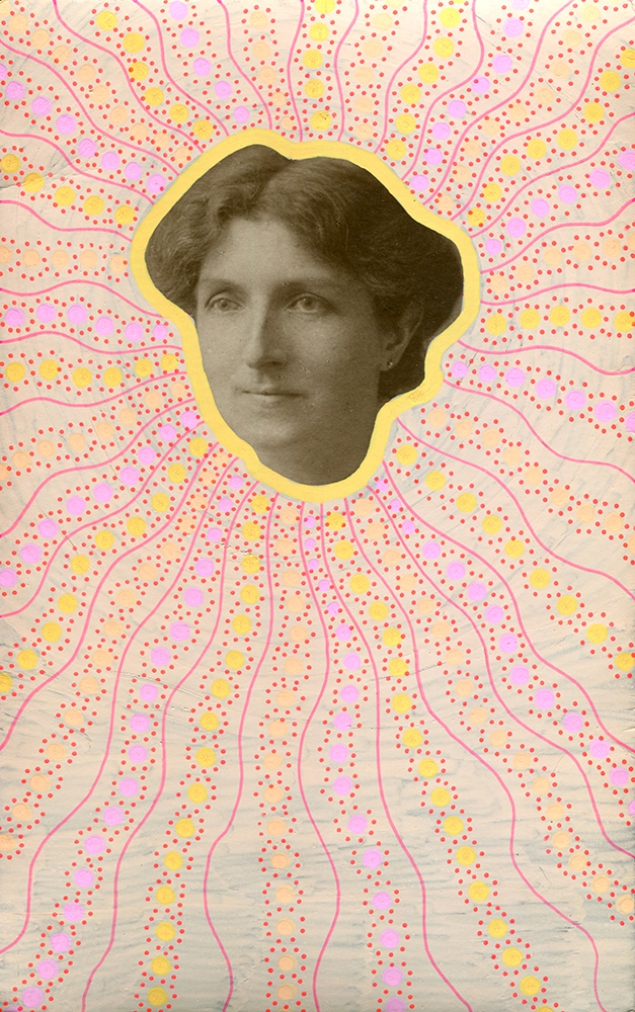 This charming work focuses on brightness and an electrifying use of shape and colour. I particularly like Vona's use of repetitious, inter-connecting dots that are commonly found in aboriginal art, although perhaps this was not intentional. The artist drew her inspiration for this piece from the villainous queen of hearts in "Alice's Adventures in Wonderland", using a less menacing figure for the queen, with sun like rays shooting from her head.
Harman is a part of the artist collaboration, Electric Stripes. This series focuses on neon sign artworks that are vibrant and lively, motivating you to light up your life. Fun and ethereal, this piece encourages you to follow the rainbow wherever it may lead. Go ahead, take out the old neon beer signs and replace them with something more artfully inspired, and carefully crafted.
Murakami's work is often equal parts cute and disturbing. This work is a bit of both, but with more fun and less shadowy undertones. It also makes you wonder, what is the shocking truth to be revealed? Will it be exposed with more observation, or is it something that we may never know?
Taken from the series 'Animals Pretending to be Other Animals', which concentrates on merging the ridiculous and the representational. A less serious subject matter, that maintains various underlying elements; the series are a fun reinterpretation of animals and have a light-hearted element that makes them very appealing. Another work from Moore that is sure to put a smile on your face, The Gibbon Who Wanted to be Batman.
Sunlight is a study of the colours of sunlight, set against a solid white background. Simple, yet penetrating, Williams's work reminds us to further delve into the pure brilliance of the sun. As the sun shines upon us in the morning revitalizing the spirit, this piece works hard to remind us the sun is just as wondrous and inspiring as a rainbow, if not more so.
If you need more inspiration to have fun with your art collection, contact a Rise Art curator to get helpful tips on creating a space that can be your sanctuary or browse the collection below!
About the Author
Antoinette Williams is an independent art consultant, curator, and writer, Antoinette is an enthusiast of art of all media. Holding a BA in Art History and MA in Fine and Decorative Art, she has been a contributing writer for Or Does It Explode Magazine, Fresh Paint Magazine, and Artfetch, (now joined with Rise Art). She currently divides her time between San Diego and New York.
Follow her
Twitter: @awilliams87888
Instagram: @antoinette_8788