Lucie Bennett makes silkscreen prints and paintings on aluminium that explore the female form in all its curvaceous glory. Sometimes her figures pop out immediately, and other times it takes some searching to find them amongst the lines and bends. She's been featured on the BBC's Culture Show and has exhibited at the likes of the Royal Academy and the Barbican. Her work is also held in the private collections of the Groucho Club and Virgin. So what is it that Lucie is trying to say about female identity? And what makes her body works so popular?
When did you know you wanted to become an artist?
I always loved drawing and drew women from a very young age. Living in Asia when I was a child inspired my sense of colour - I loved all the unusual plants and the bright textiles people wore. I was also drawn to the freedom that an artist has.
What messages are you trying to get across about female identity in your work?
The work I like to make I see as being strong, female and beautiful - yes, we can be all of these things at the same time. I was inspired by female artists Cindy Sherman, Helen Chadwick and Frida Kahlo whilst at art school, all of whom used their own bodies in their work to great, evocative effect.
I think the female body is really beautiful, the curves, shapes and tangled lines you get drawing it. I'm also interested in the negative space the body creates, the areas around the body. I've often incorporated organic, plant shapes into my compositions which work well with the body and accentuate its sensuality.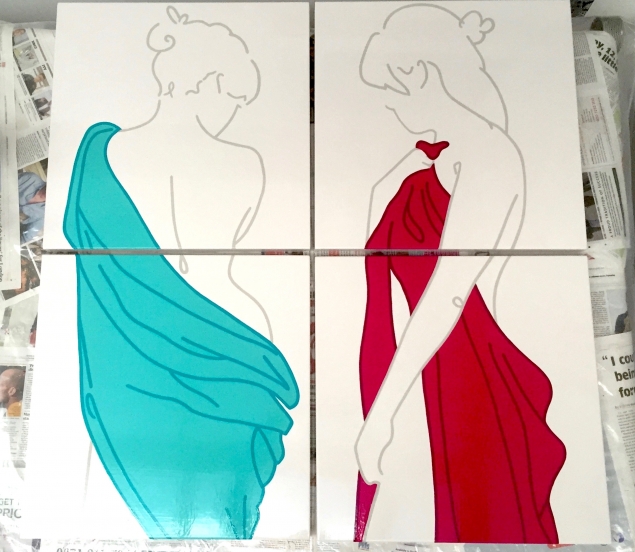 In some of my work you don't see the body straight away and I like this sense of discovery, and recognising the similarities between our bodies and many other organic shapes.
Tell us about your two new prints on Rise Art.
Ipanema and Honey Island prints are bright, fun and sassy. I wanted to create two new bold prints to celebrate the start of Spring. They are a pair but also work separately. The titles of the works are taken from names of beautiful, well known Brazilian beaches.
On Brazilian beaches, the butt is celebrated almost to the point of reverence which makes sense to me. I've used strong, fun, joyful colours for these kick-ass females, and I chose to go classic Lucie Bennett figurative style for the new limited edition prints.
Can you tell us about your method(s)?
I've always been interested in exploring different materials, to give the subject matter of the female body some interesting and varied texture. As well as producing screen prints, I make paintings using gloss paint on aluminium panels, which have a fantastic, lacquered finish.
I like to make smaller works too - cut card collages, often using pieces of aluminium. I have made a series of neon light sculptures based on 50s style cartoon pin up girls, which was really fun, and worked with coloured acrylic plastics making laser cut objects depicting the female body (see Tutti Frutti). I always start by choosing a drawing which I can visualise being developed into something else, something more significant, more solid.
What do you love about your studio?
The friendly mice! My studio is a classic artist's' garret - a converted warehouse which is pretty cold and leaky in the winter but it houses a great hub of artists which is a bonus for an artist who spends most of their time holed up in their own studio. It's been great to have a community to share information, resources, tools and biscuits with.
Share this article