We quiz abstract artist Abigail Box,

whose luminous paintings bring light and colour into any space!
We love your attention grabbing, abstract artworks Abigail!
Could you tell us a bit more about yourself?
I'm a London based artist, I work in my studio in Bromley-by-Bow making paintings. I'm interested in lots of things and I flit between different ideas a lot. Above all I would say that my paintings are about the space on the canvas and the ways in which paint can be used to build into this space and how the canvas can be occupied by colour, shapes and structures. My recent paintings loosely depict forests, landscapes, fires and explosions, complex structures which are open to reinterpretation - often balancing between being figurative and abstract. I like creating environments that take up a large amount of space... volumes which challenge the flat surface of the canvas.
'Crashing Light' depicts the aftermath of an explosion as a dense cloud gradually dispersing, in which the most prominent shape was created by pouring paint from a height while the canvas lay horizontal. Once dry, this pool of paint was then worked into with gradual layers to transform that flat splash into a thick and voluminous cloud, a combination of my own intent and the unpredictable nature of the paint itself.
What was it about Art that made you decide to choose it as a career?
I love the conversation surrounding art. On all of its many levels, I think the world is a more interesting place with art in it. As for my own practise, I'm easily lost in thought, preoccupied with ideas and in ways of looking at things, I'm also naturally driven to make things, and sympathetic to having a go at almost anything... And painting is what I'm most excited by. I'm fascinated by it and I'm continually surprised by and in awe of new paintings being made. Considering what painting is at its most basic, what can be done with it and the discussion it provokes is overwhelmingly vast.

What are your favourite materials to use - or what materials do you find challenging or produced results which surprised you?
I mostly paint in oils, but also occasionally in acrylics and household paints. I also use a variety of mediums which affect the way the paints dry and so the surfaces of my paintings are a patchwork of different textures. The variety of textures in 'A Deep and Gathering Roar' enforce the abstract and map-like look of the piece whilst also evoking an outdoor terrain of some description. I like one surface to interrupt another, shiny next to matte, thick brush marks on top of a thin and translucent pool - although often I'm not entirely sure what the effect will be until the paint is dry.
Your stop motion films really show the amount of detail that goes in to your artworks, but on average, how long does it take to complete a piece?
It varies. Sometimes I finish a painting within weeks and sometimes I work on and off a piece over a few years. It's especially hard to say with my most recent work, with which I have little by way of a plan to follow. Instead I'll make decisions in reaction to how the piece changes as I add to it, continually reassessing what I see compared to how I intend it to look.. and that intention can change too. 'Bold Tendencies' went from being finished in 2012 to being not finished at all in 2014, my relationship to the piece changed due to the direction my work was taking at the time. The piece went through a complete transformation, becoming more layered and abstract, heading away from the original photograph and more toward my own idea of that image and how it might lend itself to loud colours and descriptive brush marks. That 'deciding what to do next' generally involves sitting down with a cup of tea and looking, sometimes helping myself to look more carefully by making sketches of the piece in progress.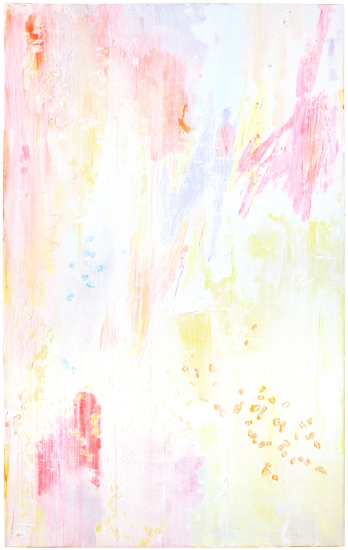 Are there any particular artists that influence your artworks?
Right this minute Andreas Eriksson, Hurvin Anderson and Joan Mitchell, although in different ways, they each address space on the canvas in ways that I appreciate.

What is your dream project?
I have a very rough plan to travel to Peru and visit the Tambopata Research Center as they accept a few artists per year as artists in residence. It's a new set up and was initiated by artist Nina Rodin who was already running a residency at her studio in Trelex, Switzerland, which I attended over January 2015. The new residency in Peru is at an incredibly remote location in the Amazon rainforest, a six hour transfer from Puerto Maldonado airport. Reading through the blogs of past residents it seems otherworldly. I'm lured by the density and depth of the forest, the thought of this seems to lie poetically close to the way that I have been exploring space and depth through thick heavy layers of forestry in my recent forest fire series.
And finally, what has been the best piece of advice you've been given?
I'm not sure about the best advice but the last memorable suggestion that was made to me was a technical point which was to experiment more with using mid tone washes. I started my latest painting with a pale yellow ochre and as a result, in terms of the kind of colour palette that I'm choosing to work with, the piece is resting on a whole different set of foundations.

Check out all of Abigail's Artworks here! And see the artist create her large scale abstracts by clicking here.