According to top interior designer Kelly Fannon, if there is one thing you can do to refresh and renew a space without a big budget, it's to hang your art in the right way. The question is, where to begin?
Start As You Mean to Go on
A good place to start with hanging your art is by deciding what frame-style, visual structure or colour scheme you want. For instance, you can use the same frame style and colour for all your pieces, bringing unity to your wall.
You can ensure that the top, bottom and sides are equally aligned for order and symmetry, or you can do the total opposite, and juxtapose vastly varying sizes and imagery.
You can stick to a complementary colour palette, or you can opt for an eclectic colour scheme.
For more examples, explore our articles on creating a salon-style hang and top tips for curating your own gallery wall.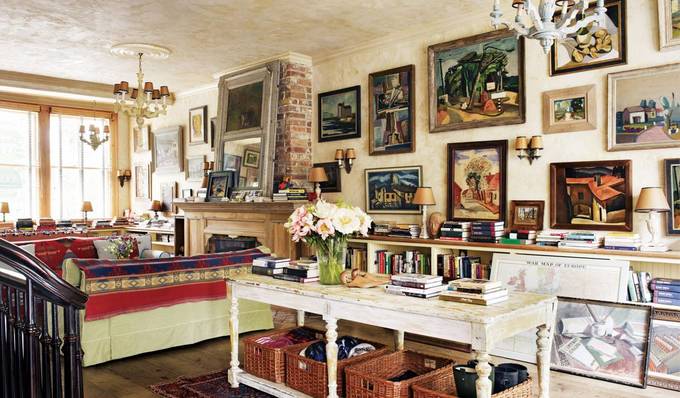 Know What You're Hanging
Whether you're after a more aesthetically adventurous setting or to evoke a sense of order and calm, you can't just take a hammer and nail to your wall. Planning is essential. You need to know what you're hanging before drilling any holes. Read on to discover how to hang different types of wall art.
How to Hang Canvas Art With Nails
To hang canvas art, measure up where you would like the canvas to be displayed and mark an 'x' (using a pencil) in the centre to help guide you. It might be wise to place stick-on wall pads on the back of your canvas – this will protect the paint and avoid scratching your wall.
Hammer your nail into your 'x' mark, making sure to not hammer the nail all the way in. Ideally, leave half an inch to an inch free. Then, hang the canvas on the nail!
Alternatively, you can prop the open section inside the wood frame – on the back of the canvas – onto two sturdy nails.
Top tip: place a large abstract canvas above a simple piece of furniture or mantlepiece. This will add a contemporary focal point to the room.
How to Hang Art Prints Without Frames
If you're wondering how to hang art prints without frames, you're probably also wondering how to do so without nails. Hanging art without nails can be less daunting – you can put down your hammer, for starters – but that doesn't mean it requires less attention or sensitivity.
For paper or textile prints, as they're generally a little lighter, you can find a wide variety of adhesive hooks and strips to tack onto your wall – no drill nor holes required. The same goes for hanging canvas art without a frame, although you may still need nails if the adhesive strips can't hold the weight.
Top tip: if you have an elevated wall panel, a great way to hang artwork without damaging your walls is to create a picture rail. First, find hooks that fit over your panel. Then, thread your desired length of wire or thread through the wall hook and in the back of your artwork. From there, hang away – maybe a single piece, or a whole series for something a little extra.
How to Hang Wood Art
How you hang wood art depends on the back of the artwork; is it flat wood or is there a cross-beam framework?
For flat wood, you may want to add two cross-pieces of wood to the back of the painting, one just above the bottom and beneath the top. This will help you to avoid damaging the original work of art. From there, choose adhesive hooks, regular hooks or thread to hang as you see fit, following the same steps as suggested for hanging canvas art.
Top tip: make sure that the back of the piece is clean and that there are no nails, wires, screws or hanging fasteners that might accidentally damage your wall.
How to Hang Metal Wall Art
Hanging metal art can be a little more complicated. Since metal wall art tends to be heavier than most framed artwork, be mindful of tearing or impairing your wall. You may want to find a stud or pillar to use as the foundation. Studs are fundamental pillar-like structures which run vertically within walls and provide architectural support.
Choose where you would like to home your piece along the stud line and mark it with an 'x'. Using your drill or hammer, secure a screw or nail into the wall and gently hang your piece onto it (don't drop it too quickly at the risk of the screw not holding its weight).
Another option is to use a Standoff. Please note: you will still need to avoid hanging the piece on plaster or drywall if it is quite heavy. A Standoff is a metal structure that you attach to the back of metal wall art. It secures metal art in place while elevating the work from the wall, providing a unique 3D effect.
Top tip: if you're hanging a single piece of artwork, a good rule of thumb is to try and hang it at eye level. We tend to hang artwork too high!
How to Hang Heavy Art
For more heavy-duty hanging, you may want to invest in stronger hooks to avoid any disasters. On drywall, Monkey hooks can hold up to 35lbs and Gorilla hooks up to 50lbs. Hercules hooks hold 50lbs+.
You may need to consider applying more than one hook and using a level to align them. You can measure the artwork width and divide it into thirds or even quarters to better balance the weight. Push the long, tapered end of the hook into your wall, leaving the small hook-end sticking out. Don't forget to check the hook remains upright!
If you have sufficient space, you can lean artwork against the wall, whether from a shelf, mantlepiece, table or floor. This off-the-cuff approach can add a touch of jazz and spontaneity – ideal for those who like to update their space regularly.
Top tip: not sure which hooks to choose? Look for ones that hold a heavier weight than you think you'll need.
Get Your Tools
Once you've got your style, strategy and space ready, you can say goodbye to hole-filled walls and hello to a revived interior. Good luck!