From Covid to Black Lives Matter protests, 2020 was a year that shook the art world. It's clear that museums and galleries will never quite return to the way we once knew them. Looking ahead, what can we expect for the future? Amid the pandemic, is there optimism? In a period of social and cultural upheaval, are there opportunities for positive change? Here are 7 predictions for where we are headed in 2021 and beyond.
1. Local not global
Although exhibitions are open again, international travelling shows and art fairs remain paused and postponed. Melbourne Art Fair, for example, has cancelled its 2021 event, and won't return until February 2022. Amid increasing concern about the climate crisis, much criticism has been levelled at the travelling art fair circus and the carbon footprint of shipping works internationally. 2020 has fast-tracked us into a more sustainable art world, and it's a commitment which many will wish to keep.
2. Escape into art
If lockdown has taught us anything, it's that people want and need art, turning to it as a form of escapism. As galleries and cultural venues have reopened their doors, immersive experiences have been particularly popular. Van Gogh Alive – a multi-sensory show which immerses audiences in the artist's paintings – opened at Birmingham Hippodrome to huge demand. Within weeks of opening, the theatre sold over 10,000 tickets. Looking ahead to next year, Tate will offer audiences the opportunity to experience two of Yayoi Kusama's Infinity Mirror Rooms, immersive installations filled with endless reflections of her unique visions.
3. Female artists finally get their turn
This year we had already begun to see big changes in the art world. Museums are moving towards a more inclusive presentation of art history, with a focus on women artists, queer art and non-Western narratives. This trend is set to continue. 2021 will see overdue retrospectives for great women artists including Eileen Agar at the Whitechapel Gallery, Nina Hamnett at the Charleston Trust, Barbara Hepworth at The Hepworth Wakefield, Helen Frankenthaler at Dulwich Picture Gallery, Lubaina Himid at Tate Modern and Paula Rego at Tate Britain.
4. Black artists matter
Since the BLM protests, the art world has been asked to confront systematic racism among its ranks. Since making statements in solidarity, cultural organisations have begun to make real change. New York's Guggenheim Museum has revealed a 2-year Diversity, Equity, Access and Inclusion plan, which includes anti-racism training for all staff.
In the UK, the National Museum Cardiff has commissioned a group of contemporary Black artists to make work celebrating Black People in Wales as part of a new PITCH BLACK programme. And Birmingham's Aston Hall are collaborating with Don't Settle, a project which empowers young people of colour to change the voice of heritage, on a new permanent exhibition.
Don't Settle are transforming The Boudoir Room – previously the dressing room of Lady Sarah Newton, who was involved in the enslavement of black people – into a 21st century Black girl's dressing room. The exhibition will explore the Black female experience of beauty and highlight how Lady Newton's direct involvement in the enslavement of Black people still affects Black women today. We will undoubtedly see more important anti-racism interventions through exhibitions, collaborations and commissions.
5. Decolonising
Before the BLM protests several of Britain's museums had begun to acknowledge and reflect on their colonial origins, but the movement has acted as a catalyst for the decolonisation of cultural sites across the UK. At Oxford's Pitt Rivers Museum, shrunken heads from South America have been placed in storage. Similarly, the British Museum removed a statue of its slave-owning founder, Hans Sloane from a prominent pedestal; instead, it has been placed in a cabinet alongside artefacts explaining his work in the context of the British empire. More museums are sure to follow suit.
6. Deaccessioning
The pandemic has hit the cultural sector hard, putting arts institutions under huge financial strain. To stay afloat, some are turning to deaccessioning – the act of lawfully removing an object from a collection. Most notably, a David Hockney portrait was auctioned off by the Royal Opera House to fund its "strategy for recovery".
With the push to decolonise museums, we are also beginning to see institutions selling off high value works to upgrade and diversity their collections. San Francisco's MOMA notably deaccessioned a Mark Rothko painting for $50.1 million at auction, using the funds to acquire 11 works by 10 lesser-known artists.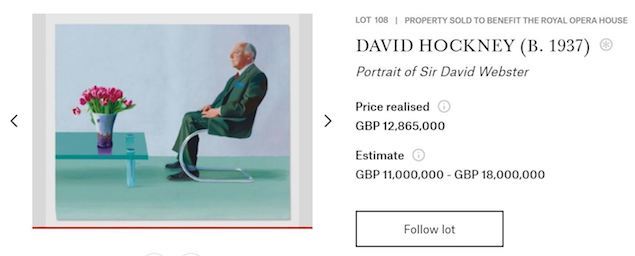 7. Online art market boom
Covid has been the catalyst for collectors to buy art online. Online-only auction sales by Christie's, Sotheby's and Phillips generated $370 million in the first half of 2020, which was more than five-times higher than the same period in 2019. Going forward, we can expect auction houses and galleries to increase their online presence, with virtual fairs, viewing rooms and exhibitions. It looks like there will be an online art market boom.