You'll be forgiven for thinking that Stella + the Stars is a blog written by Stella. But the brains behind the blog is in fact Emilie, who named it after her daughter. It was while Emilie was on maternity leave that she found the strength to give up medical journalism and retrain as an interior stylist. She followed her heart and reached for the stars. Now she's a successful stylist and an award-winning blogger living it up in Dubai.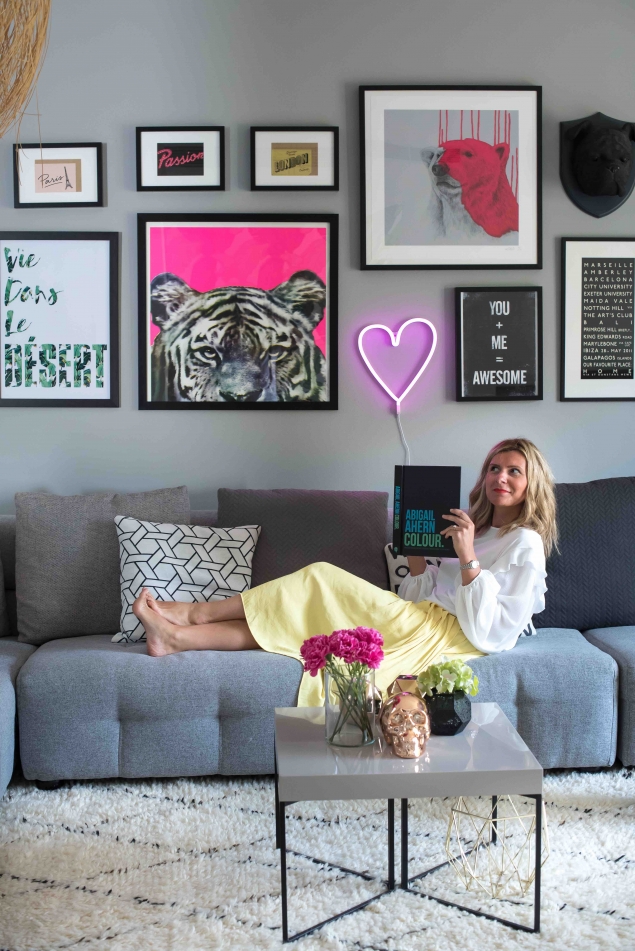 Emilie, tell us about yourself and what you do.
I am an interior stylist and blogger. I split my time between home decorating - helping people restyle their pads here in Dubai - and blogging (plus instagramming!) about cool affordable home decor ideas and inspiration. The rest of the time, I look after my 3-year-old daughter (and hubby!).
I'm French originally but I've lived half of my life abroad - in Spain where some of my family is based and then in London for over 10 years. Last year, my husband had an opportunity he couldn't refuse so we packed our bags and relocated to the Middle East - Dubai is where we now call home.
What inspires you in your work and life?
Oh gosh, where to start! Everything! Stores, restaurants, fashion, people, my daughter, social media, and of course magazines... I get inspired every day, even by the most mundane things. Instagram and Pinterest obviously are big sources of inspiration daily. I just can't remember what life used to be like without social media...
Is art & design important to you and why?
It's what makes my heart skip a beat on a daily basis. I live and breathe interior design. I need to be surrounded by beautiful things and fun art. I feel miserable (and get really moody) when I am not in an uninspiring environment... Bad decor in a restaurant for me is more offensive than bad food for example, as stupid as it sounds.
What inspired you to start Stella + the Stars?
Mainly my daughter and my repressed passion for home decor. I started my career as a medical journalist and after a few years, I was desperate to do something more creative. I had just revamped our 4-bedroom house on a very tight budget in London, finding gorgeous pieces of furniture and accessories that didn't break the bank and people used to always ask me to help with home decor dilemmas.
I was on maternity leave when I completely reevaluated everything in my life (sounds a bit deep, but it's true) and decided to change careers and finally plucked up the courage to leave the world of media & PR and retrained as an interior stylist - I was ridiculously lucky to have a very supportive husband to allow me to start from scratch... Looking back, it's probably one of the best decisions I have ever made.
Do you have a favourite artist?
I have three all time favourite artists... Bill Viola, Dan Flavin and Tracey Emin. These are the artists that really shaped my fascination with colour, neon lighting and immersive art very early on. They are the artists that made me realise that art didn't have to be stuffy or reserved to an elite, but it could be fun, come in all different shapes and forms and should be accessible to anyone anywhere.
How integral do you think art is to interior design?
For me, art is a crucial part of interior design and artwork simply completes the look of any room. It sounds clichéd but it's what makes a house a home - adding personality, telling a story, and having a focal point.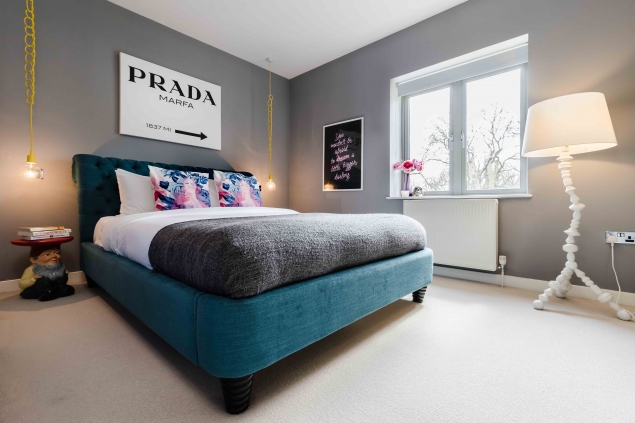 Do you collect art or anything else?
I have started building a little art collection. Nothing extravagant at all, just pieces that I have just fallen in love with over the past few years... Some pieces have stayed in my London home, some I just couldn't leave behind and I brought with me, and there are new pieces I've bought since moving to the Middle East. I own mainly affordable art from up and coming artists and photographers or limited edition prints of artists I can't afford. I truly believe you can collect the coolest art even on the smallest budget.
On a more random note, I also collect snow globes... I have a collection from all over the world in my London pad and it's growing fast so it will soon need its own room....!
Have you spotted any interior design trends emerging in 2017?
I think the 'faux' trend is making a big impact on interiors this year. Faux plants, faux natural materials (marble, wood, leather, concrete etc) for floorings and walls but also accessories and furniture... are no longer seen as tacky but as more practical and affordable alternatives in home decor. The fact that we rarely use the term 'fake' but instead the French equivalent word for it says it all!
What's your favourite inspirational quote?
There is a famous Andy Warhol quote that I have always adored: "Art is anything you can get away with". I apply that principle to most areas of my life. I am just waiting to get found out...
emilie's Top 5 Rise Art picks
This is one of my favourite pieces by Louise McNaught (I am the lucky owner of the bigger and pinker version!). Neon colours, animal drawings, striking design. It ticks all my boxes...
I met Lauren a few years ago as we have a friend in common. At the time, she used to create these incredible pieces made of deer antlers and skulls covered in swarovski crystals. Then she turned her magic to neon installations and I was instantly obsessed...
I discovered the work of British Photographer Tommy Clarke a few years ago after becoming fascinated with Gray Malin's beach shots. Aerial photography can be so stunning in terms of colours, patterns and texture.
I do love a bit of typography in art. And Ben Eine's pieces are so striking. I love the puzzle-like style mixed with bright colours.
I adore the detailed intricacy of Kristjana S Williams's prints. You could gaze at her pieces for hours and still find details you'd missed before. My daughter has a signed copy of one of her animals illustrated books and it's one of her favourites (and a lovely alternative bed time story, let me tell you!).