Matisse's mastery of the expressive language of colour and drawing, displayed in a body of work spanning over a half-century, won him recognition as a leading figure in modern art. Known for his use of colour and his fluid and original draughtsmanship Matisse came to art comparatively late in life and made his reputation as the principal protagonist of Fauvism, the first avant-garde movement at the turn of the century. He went on to develop a monumental decorative art, which was innovative both in its treatment of the human figure and in the constructive and expressive role accorded to colour. His long career culminated in a highly original series of works made of paper cut-outs, which confirmed his reputation, with Picasso, as one of the major artists of the 20th century. Here's 5 things about him that you might not have been aware of.
FACT 1:
As a student of
William-Adolphe Bouguereau
, Matisse learned the fundamental lessons of classical painting. His one art-schooled technical standby, almost a fetish, was the plumb line. No matter how odd the angles in any Matisse, the verticals are usually dead true. His second tutor,
Gustave Moreau
was a painter who despised the "art du salon", so Matisse was destined, in a certain sense, to remain an "outcast" of the art world. He initially failed his drawing exam for admission to the École des Beaux-Arts, but persisted and was finally accepted.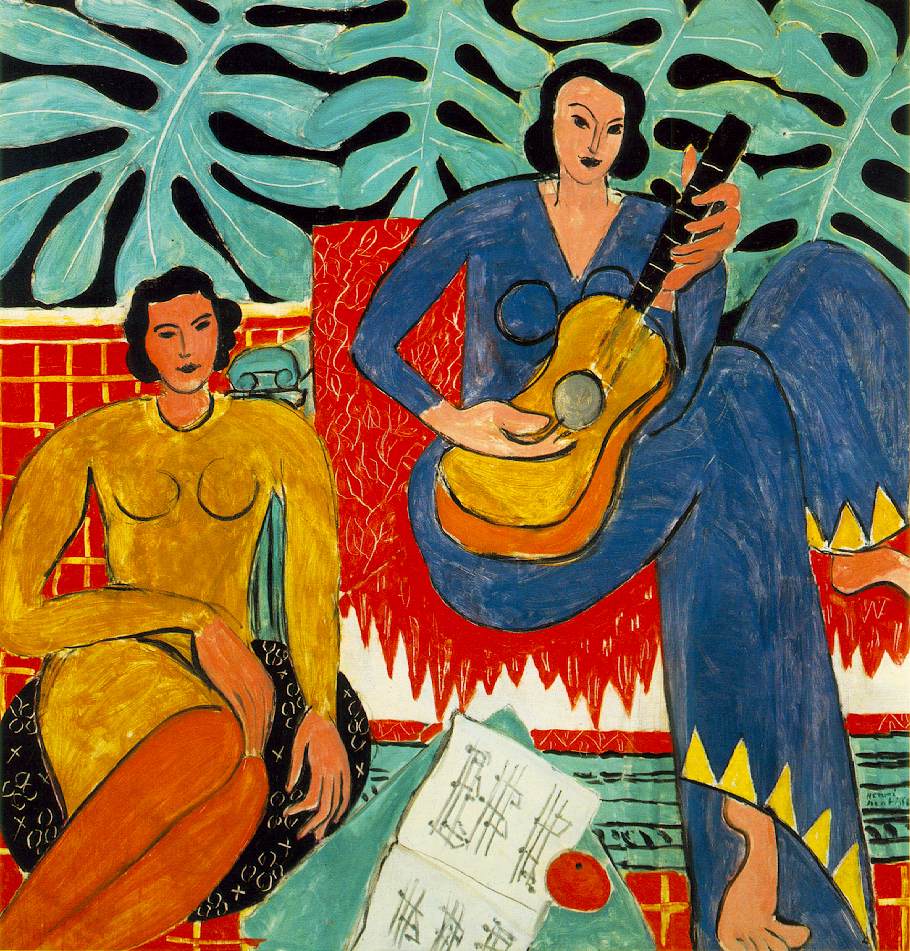 FACT 2:
Matisse immersed himself in the work of others and went into debt from buying work from painters he admired. The work he hung and displayed in his home included a plaster bust by Rodin, a painting by Gauguin, a drawing by van Gogh, and Cézanne's Three Bathers. In Cézanne's sense of pictorial structure and colour, Matisse found his main inspiration.
FACT 3:
Matisse was first brought together with Picasso at the Paris salon of
Gertrude Stein
and her companion Alice B. Toklas. Entrée into the Stein salon was a sought-after validation, and Stein became combination mentor, critic, and guru to those who gathered around her, including Ernest Hemingway. During the first decade of the twentieth century, the Americans in Paris— Gertrude Stein, her brothers Leo Stein, Michael Stein and Michael's wife Sarah—were important collectors and supporters of Matisse's paintings.
FACT 4:
With the model Caroline Joblau, Matisse had a daughter, Marguerite, born in 1894. In 1898 he married Amélie Noellie Parayre. Both Marguerite and Amélie often served as models for Matisse. Quite horrifically, Marguerite, who had been active in the Résistance during the war, was tortured (almost to death) in a Rennes prison and sentenced to the Ravensbrück concentration camp.
FACT 5:
Oddly, according to David Rockefeller, Matisse's final work was the design for a stained-glass window installed at the Union Church of Pocantico Hills near the Rockefeller estate north of New York City. "It was his final artistic creation; the maquette was on the wall of his bedroom when he died in November of 1954", Rockefeller writes. The installation was completed in 1956
And if you want to keep track of the best in Art and Design, Take our ART STYLE QUIZ and BECOME A MEMBER. It is free and you'll get access to the best new art from top Museums, Galleries and Artists.