Deemed one of Britain's most distinguished living artists, David Hockney's 60-year career has seen him produce an expansive oeuvre, spanning the mediums of painting, etching, photography and beyond. The artist's retrospective at Tate Britain last year was the museum's most visited exhibition ever and the upcoming sale of his 'Portrait of an Artist (Pool with Two Figures)' is anticipated to fetch a whopping $80 million at a Christie's sale in November. If it does, this will smash the record (held by Jeff Koons) for a work by a living artist sold at auction.
To celebrate the iconic, the venerable David Hockney, we bring you a curated collection of Hockney-inspired artworks and a list of 5 facts you might not have known about the artist...
1. SYNESTHESIA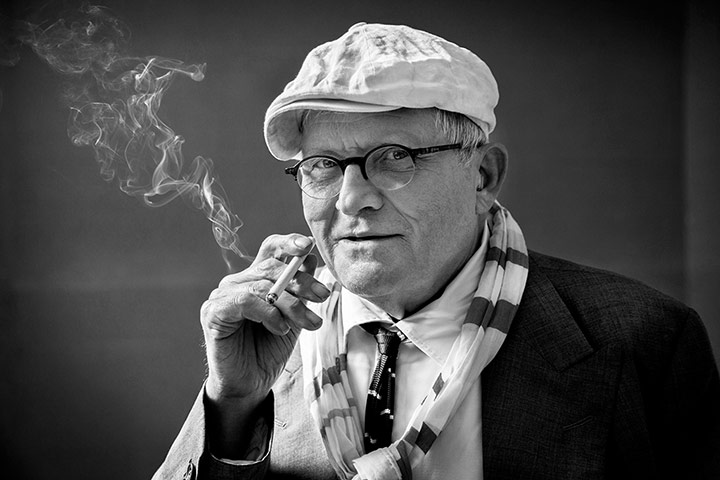 Born with synesthesia, Hockney sees colours in response to musical stimuli. Although he has never translated this into his painting or photography, it is a common underlying principle in his designs for ballet and opera stage sets - where he bases background colours and lighting on the colours he sees while listening to each musical score.
2. California Dreamin'
A visit to California - where he was to live for many years - inspired Hockney to make his iconic series of paintings of swimming pools in the comparatively new medium of acryclic. "I always loved swimming pools, all the wiggly lines they make," the artist told CNN in 2017. "If you photograph them, it freezes them whereas if you use paint, you can have wiggly lines that wiggle."
3. IPAD ART
Since 2009, Hockney has painted hundreds of portraits, still lifes and landscapes using the Brushes app designed by Apple. "When I began drawing on an iPad I loved it," the artist said in an interview with artnet news. "I thought it was a terrific medium. Everything is at your finger-tips, there is no cleaning up. I realized I could just reach for my iPhone and draw, even in the dark, which you couldn't do with watercolor or something," he added.
4. DOUBLE RECORD BREAK
Earlier this year, two works broke the record auction price for a David Hockney in one evening. 'Pacific Coast Highway and Santa Monica' (1990) sold for $28.5 million and 'Piscine de Medianoche (Paper Pool 30)' fetched $11.7 million at a Sotheby's sale in New York.
5. The phone book
Hockney designed the cover of the 1989 British Telecom telephone directory for Bradford, where the artist grew up. A copy of the book is on display at Bradford's Cartwright Hall, where a dedicated David Hockney Gallery was opened last year to commemorate the artist's 80th birthday.