Lilia Orlova-Holmes creates abstract expressionist paintings that capture ethereal 'gardenscapes'. Forever celebrating the fleeting beauty of the natural world in her work, Lilia follows an intuitive process, adorning her canvases with bright colours, delicate textures and gestural brushstrokes.
Lilia opens her paintings to the viewer's interpretation, encouraging a spectrum of experiences and interpretations. Her final paintings are a combination of memories, real places and a mixture of the two. Lilia recently joined the platform and told us about her practice, her working routine and the inspiration behind her work.
How would you describe the art you create?
I would like to think of my work as immersive. It is open to a viewer interpretation. I paint my thoughts and subjective experiences while trying to understand how things truly are. I hope to invite my viewers to step into the artwork and experience the emotion awoken within them.
My work is constantly changing. I enjoy the spontaneity of the realisation, and I can't predict my next painting.
What are the messages you want to get across with your work?
My fundamental messages are the free-flowing joy of exploration, endless possibilities, and the search for deeper meaning via self-reflection.
Have you always worked in an expressionist style?
My work has changed over the years. As I became happier and more accepting, my work became freer, more spontaneous and intuitive.
How has your practice evolved in recent years?
A big change for me happened when I moved from London to Kent 10 years ago. After growing up and always living in a big city, I suddenly started to experience the feeling of being a part of nature and seeing a constant change and renewal, as well as embracing imperfection.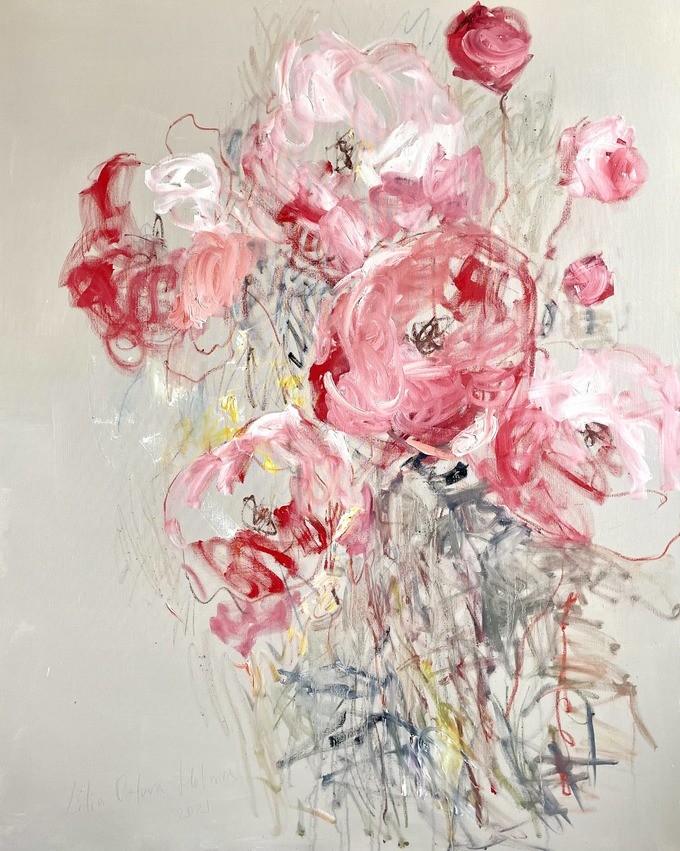 What's an average day like in your studio?
I start my day with a long walk. By the time I am back to the studio, I am ready to paint. My painting process is a bit like dancing. I move around my studio and leave marks on the canvas; sometimes, I pause and continue again. After a few hours, I feel completely exhausted. I spend an hour or so drinking coffee and looking at the work in progress. Sometimes I go back to painting after a break; other times, I take photos, post on social media or prepare canvases for the next day.
Do you paint from memory or are you representing specific places in your paintings?
My painting usually starts with something I see triggering the thought or memory. Sometimes it is a memory of a certain place, but I paint my current thoughts and understanding connected to the memory.
What/Who are your key influences?
I am influenced by everything I come into contact with. My main influence is a desire to examine and understand my experiences. Many artists influence me Ogata Korin, Pierre Bonnard, Oskar Kokoschka, Cy Twombly, Joan Mitchell, to name just a few.
Who are some Rise Art artists with work you're enjoying at the moment?
At the moment, I enjoy following the work of Phillip Maltman and Jeanette Lafontine.