Jessica Matier creates work that explores the human condition. With her dynamic abstract paintings, Jessica meditates on her own experiences and ever-changing relationship with the world around her. Taking inspiration from mystical iconography, childhood memories, and everything in between, Jessica's works are textured and in-depth explorations that bring together internal musings and external observations.
How would you describe the art you create?
I would describe my work as mixed media semi-abstract illustrated emotions, as in energy in motion.

What are the fundamental messages you want to get across with your work?
That every human experience is divine. Your value is not determined by things or appearance, but by the thoughts and intentions carried within the daily actions taken. In the end, it's all just a life manual for my kids. I think of it as my moral insurance policy for them.
Have you always worked in an abstract expressionist style?
I've professionally painted this way since 2017. In my early twenties, I created figurative watercolor paintings and collages with poetry. During high school and my childhood, I would create worlds that had the identical structure that my work possesses now. I took many years off and painted nothing from 2008-2016.
How has your practice evolved in recent years?
My practice is tightly linked to my own personal life and inner experiences. You can see when an idea is injected, forced, or released through the process. I think my work reveals just that.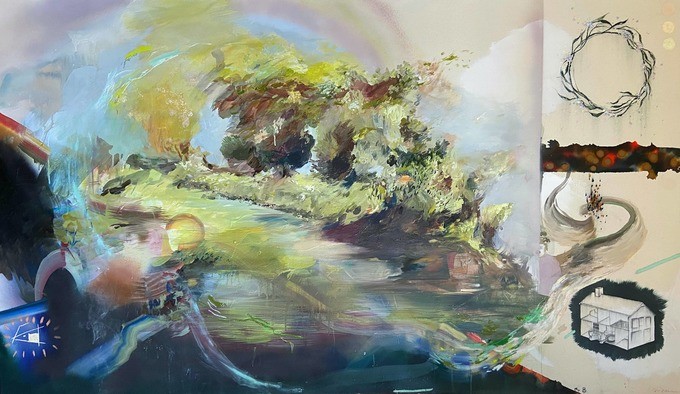 What's an average day like in your studio? Is it important for you to keep to a routine when creating work?
I come out to the studio after coffee and checking over my garden. I light a candle, adjust the temperature and burn some sage. I walk around assessing what needs to be done, read a quick story, and usually tackle some administrative stuff. I don't like emails and internet-related things hang over me before making artwork. I'll ship stuff out and post on social media. Some days I get carried away with all this nonsense and never actually get to painting. Other days I will skip all the admin or delegate it to my daughters and get straight to painting. Routine, schedules, and organisation are very important to me. I value efficiency and orderliness because through that I find the time and headspace to make work.
The names of your works have a poetic ambiguity to them. How do you go about titling your works?
The titles come to me in moments of silence and meditation. I do my best to not force any idea into them. It's an odd process by not being a process at all. It's divine, like a prayer, or a passing thought, or me reacting to a memory, hoping for the future, or just a silly little thing that happens throughout the process.
What/Who are your key influences?
Kiki Smith, Louise Bourgeois, Thomas Cole, religious and mystical iconography, plants, the forest from my childhood, Hieronymus Bosch.
Which Rise Art artist has work you are currently enjoying?
Are you currently working on any exciting new projects?
I just finished painting 100 11 x 14-inch works on paper in 100 days. Each piece has an accompanying process video. They can be seen on my Instagram reels, IGTV, and posts. The final body of work consists of 99 paintings and I intend to sell them as one whole piece. Earlier this year I completed 12 canvases and I am beginning another 12 painting series now.