Clare Halifax
creates
illustrative
screen prints inspired by cityscapes, scenes of nature and wildlife. The artist's eye for aesthetic harmony instills balance and beauty in her art. Together with her refined palette, her attention to composition results in great skies or swirling patterns and seas of vibrant blues. Clare's ability to capture the character of a place makes for a collection of uniquely embellished and spirited prints.
Would you describe your creative process?
My creative process has a set of stages. Initially it will start with the pen drawing of the chosen subject matter. This will then be scanned and developed into a series of layers in photoshop which will introduce colour elements into the work. Once each individual layer is achieved it will be taken into the screen printing process. The layers will be made into positives for screen printing in order to print each layer on top of one another and build the final piece, with the original drawn layer usually being the last to be printed on the top to complete the image.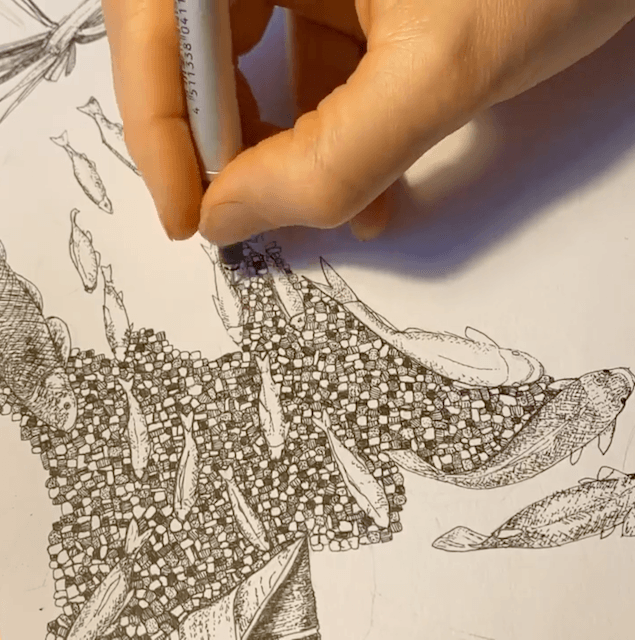 Do the locations in your work have any personal connection with you?
My first set of works were of Bath and Bristol, which is where I was living and studying at the time. I then introduced Cornwall as a subject matter after visiting my sister who lived in Penzance. The three locations had very different architecture and landscapes that allowed me to explore how different elements, cityscapes and landscapes could be depicted and developed into screen prints. This led to London based work due to representation by London galleries and eventually moving to the city. I tend to look at the architectural/landscape body of my work as a reflection of a moment that people can share. London skyline is always changing and evolving and the cityscape work I produced 10 years ago shows the city at the time. I hope for all the places it allows people to have a memento of a special place and time.
What was the key influence that led to the development of your process and style?
I have always loved to draw and when producing the cityscapes, especially the aerial views, I realised I was able to achieve the intense detail. In order to make my work unique to me, I brought in the pattern sky element. I originally studied printed textile design and have always loved pattern, introducing it into my pieces allowed me to create the distinctive and recognisable style.
Is there a link between your cityscape work and your botanical pieces?
The botanical pieces in some ways was a return to my textile background as I mainly drew florals. If anything architecture pieces were the departure originally. But in many ways, having done a lot of intense architecture based drawings, the botanicals were a way of relaxing and resetting. Producing something in a different colour palette that wasn't as tight or structured. Allowing me to develop and introduce some new ideas.
How do you choose your colour palettes and the textures?
Inspiration for colours comes in many forms. I'm a great lover of magazines such as Elle Decoration, Vogue etc, and flicking through these you can pick up on strong colour combinations. But also inspiration can be found in the subject itself. The patterns can often tie in with the subject. Sometimes picking up an element within the drawing. For example, the from me to kew piece, the sky pattern is based on the windows of the palm house. I tend to have more geometric patterns in london pieces as often the image, especially the densely packed building work, I feel would be overpowered by anything more complicated. And also I look and see lots of geometric elements within the city itself.
How do you get inspired?
Living in london, I go for a lot of walks in order to get inspiration. Either to visit certain places and take photos or sometimes just to work things through in my head. For botanical works a lot of my inspiration has come from the Barbican Conservatory and Kew Gardens. I always enjoy the Tate Modern and walking down Southbank, which is probably why I have so many pieces based around there, and more to come!
What does art mean to you personally? Is there a goal you're trying to accomplish?
Art to me has been everything since I was small. I've been drawing for as long as I can remember and am lucky enough to have made it a career. There is no specific goal. Be happy with the work I produce, inspire others, inspire myself. Bring a source of joy into people's lives that they can look at and feel a little lighter or happily nostalgic. It's hard to switch off from, as the line from the day job to the hobby is very blurred, but I can't imagine myself doing anything else.
Do you have a life philosophy? Does your creative practice fit in with this philosophy?
In today's climate it's a popular phrase but be kind. Probably have more patience as well. There is always more to learn and room for personal growth with more stories to be told with the work I produce.
What's the most memorable, exciting or bizarre story, experience or encounter in your career as an artist? Or in your lifetime?
As an artist, I was lucky enough to be approached by London Air Ambulance to produce a set of prints to be auctioned off to raise money for a second helicopter. People often don't realise it is a charity and therefore reliant on donations to provide it's vital service. My 'payment' for this was a ride in the helicopter over London back to the helipad. It was incredible to see the city from that viewpoint. And loud! But it gave an amazing experience and a chance to take some incredible pictures.