You have two distinct styles of work: macro photography and light painting. What interests you about each?
I think if I were to just specialise in a single form of photography, I would go slightly mad. I seem to have found a wonderful balance between two very different genres and styles of photography that offer me a broader platform for expressing myself.
Light Painting is one of the most exciting and creative forms of photography imaginable. I have always been a keen Landscape photographer and most of my Light Painting work feels like a direct extension of this; the landscape becomes my own 3-dimensional canvas in which I 'paint' with light.
For over 20 years now I have been obsessed with the notion of using dioramas to convey my ideas and thoughts. Because the work is figurative in nature and therefore visually engaging, the figurines can be used to powerful effect when providing a commentary on all kinds of subjects.
What's your process? How do you approach your work?
My light painting work is all about shape, form and colour existing (or not truly existing?) in space. I love the fact these forms aren't tangible like typical sculptures are, but they are in essence light sculptures that exist in space, made only visible through the magic of long exposure photography.
The ideas for my macro series are normally formed in one of two ways:
Sometimes I will look at an object and think to myself "that would make a great prop to base a scene on with the Little People" and I will then source figurines that interact well with it.

Or I will buy a set of figurines that I like the look of and then spend some time thinking about what objects would interact well with them in a scene.
Is there an artistic movement or artist that has influenced you?
In general, I love surrealism. Anything that offers a momentary detachment from reality has always interested me. I think both series of work can be visually associated with this movement.
During my time at art school I was introduced to the work of David Levinthal (a master of figurine photography) and it helped give my work more direction and impetus. He is a genius. My Light Painting work started much later, around 12 years ago, and wasn't inspired by another artist per say, but more inspired by other art forms like painting and sculpture.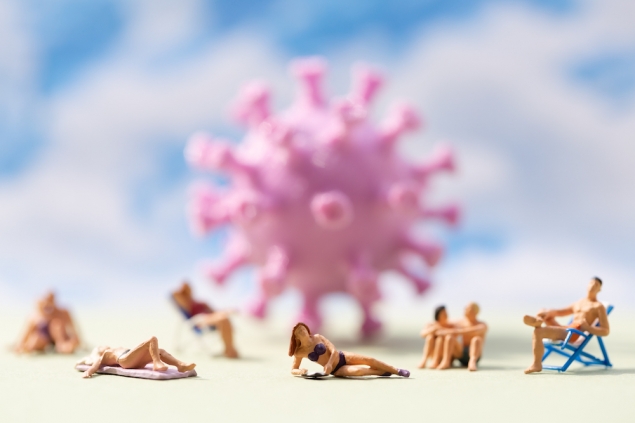 What is the driving force behind your work?
I think my Light Painting work is driven by freedom of movement and the ability to express myself physically in space. It is a little like performance art if you were to see me making this work.
The 'Little People' work can sometimes be a little like a one-liner, whereby I am just having fun and end up creating a scene that is more amusing than it is meaningful. But I do also attempt to inject serious messages into a lot of my work which is more evident in the series of photographs I created that were inspired by world events such as Brexit, the devastating effects of Plastic Pollution and the dreaded Coronavirus.
Your specialisations are poles apart in scale. Do you consider them as separate schools of thought?
Yes, I definitely feel that I treat each specialisation very separately in my mind both in terms of my thought process, and how I execute the work. They are just so technically different, it would be hard for me to draw too many parallels between them. I think this is why I gain so much satisfaction from working with both approaches and styles. It seems to keep my brain happy.
Would you consider your presence as part of the work?
Yes, I definitely consider myself as part of these works. I think this is one of the reasons I find this form of photography so incredibly magical and somehow poetic. I love the fact that in each of these shots I have been physically present in the photograph for almost the entirety of the exposure, yet remain completely invisible. We travel through life leaving behind remnants of our time here, and this work kind of represents the same. The traces of light are all that I leave behind. The image with the footprints is a great visual representation of this.
Tell us about an interesting project you've been involved in.
In 2014, I created a series of images (Light Paintings) for a non-profit organisation called TWLOHA. You can read about them here. This series of work will always be very special to me as it signifies there is always light and hope, even during the darkest of times. You can read about my project here.
I have just completed a large commission for AIDA Cruises. I was commissioned to create a series of dioramas that I photographed, and the works have now been printed very large. The prints will be showcased in the restaurants on board their newest Cruise Ship later this year.
For any photographers out there who wish to learn more about the magical art of Light Painting, I have just written a book on this very subject which is now available to buy and download via my website.