Since graduating with a BFA from Rutgers University's Mason Gross School of the Arts, New
Jersey, in 2013, Jamian Juliano-Villani's star has very much been in the ascendent. Whilst
working as an assistant to the likes of Dana Schutz and Erik Parker, having eschewed a post-
graduate programme of study in favour of learning by doing, Juliano-Villani was picked up by
Jasmin Tsou of JTT, after the prominent gallerist stumbled across the young artist's work on
Instagram (an occurrence becoming increasingly commonplace as the art world embraces
social media marketing to target a younger, millennial audience). With JTT's guidance the
Italian-American painter signed on with Massimo De Carlo as her European representation,
bringing us, by way of many group exhibitions, solo presentations and acquisitions by major
american institutions, to 'Let's Kill Nicole', her second solo exhibition with the Italian gallery
(founded in Milan in the late 80's), as well as her second London solo exhibition (following
2016's 'The World's Greatest Planet on Earth' at Studio Voltaire).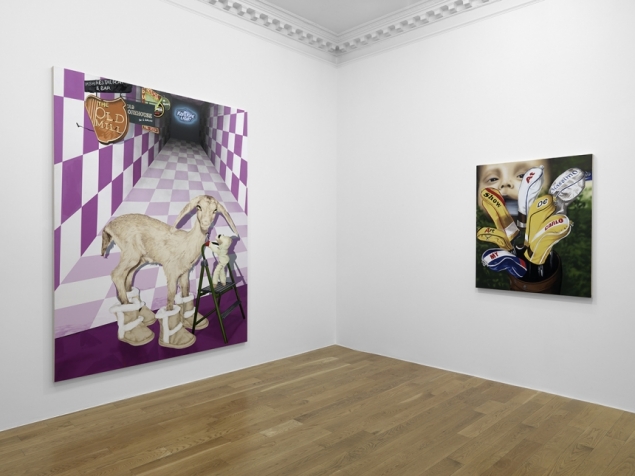 For 'Let's Kill Nicole', an ambiguous title assumedly in reference to a grade school in-joke,
Juliano-Villani presents a large number of new paintings, as well as a rather explicit sculpture (a
cuddly tiger toy enthusiastically mock-fellating a cellophane covered sextoy) and site-specific wall
mural (an all-american monster truck crashing forth from the white wall and heading straight for the
gallery's large glass frontage). The latter two, by the artists own admission, are attempts to disrupt
the otherwise conventional gallery setting, a series of white-cube spaces within one of Mayfair's
historic buildings. That's not to say that the painting themselves are not already irreverent enough,
Juliano-Villani had gained some notoriety in recent years for her appropriation of other artist's work
within her own, often to humorous and satirical effect. This plagiaristic purloining is combined with
the artists penchant for the banal, with works referencing moments in Juliano-Villani's life, setups or
punchlines to common jokes and pop culture icons and iconography.
A recurring character in a couple of the work on display in 'Let's Kill Nicole' is Overtaci, a
human-deer hybrid created by the Danish outsider artist of the same name, only here Juliano-
Villani portrays the creature as a relatable American teen, complete with Ugg boots or a
lacrosse stick.
The late Amy Winehouse also makes an appearance in two works, as the artist memorializes
the tragic musician by depicting her as a child receiving a ceremonial salute from fighter jets,
lizards and dolphins, all rendered in Juliano-Villani's signature airbrushed style, remiscisent of the
imagery adorning cheap bootlegged t-shirts.
Juliano-Villani's thorough grasp of, and keen interest in, art history is evidence throughout the
engaging exhibition, despite perhaps the artists attempts of hide it behind layers of humour,
insolence or apathy. The monster truck mural, for example, work in line with the French tradition
of Trompe-l'œil that originated in the Paris salons of the early 1800's; the sculpure of feline
felation echoes the then-controversial readymades of Marcel Duchamp, as does her work
'Passion For The Road' that incorporates a 'PetChatz HD Wifi Two-Way Audio & Video Camera
& Treat Dispenser' into the canvas, resulting in a growing mound of dog treats beneath the
seemingly unrelated image of a nude man lying prone on a beach.
It is that rich layering of both narrative compositions and conceptual connotations that sees Juliano-
Villani's work featured in the collections of the Brooklyn Museum, the Hammer Museum and the
Whitney Museum of American Art (to name a few), and what elevates this superficially tongue-in-
cheek display of impertinence to an important cultural critique of modern American and a must-see
exhibition.