"Art is longing. You never arrive but you keep going in the hope that you will."
- Anselm Kiefer, German painter and sculptor
Gina Parr and Ian Hoskin met as Fine Art postgrads at Middlesex Polytechnic in North London. Gina originally practised as a Painter and Performance Artist before going on to have a successful 25-year career in TV Production Set Design. Ian developed his career in Photography as a freelancer for the BBC Picture Publicity Department and worked on his own photographic projects in parallel, originally working exclusively with film and print in the darkroom before bringing digital techniques into his practice. In 2007, Gina left her Set Design days behind and returned to Painting and Photography full-time.
Today the artist couple live in Devon and enjoy backpacking around the globe. Gina's work is informed by landscape; she produces painted pieces in the studio and on her travels she photographs marks, decay and texture. Ian, meanwhile, focuses on capturing human subjects - and the traces they leave behind.
Gina, you worked for 25 years as a Set Designer in television. What made you return to being a Fine Artist full-time?
When I started designing for television, budgets, client expectations and opportunity for creativity were great. But as the years progressed, budgets shrank, expectations grew unreasonable and there were less opportunities for pure creativity.
The role of the Set Designer became that of an accountant, facilitator and organiser. I originally trained as a Fine Artist and after 25 years of Television Design it was time to return to my roots. The skills I employed as a designer, like spatial design, visualisation and project management, have all been invaluable to my work as an artist.
What is it about the Devon landscape that inspires your paintings?
As a child I spent time mackerel fishing with my father, and these trips formed my emotional bond with the landscape and seascape of the South West: beautiful, wild open spaces, changes in the weather and terrain and the freedom of natural space.
Counter to this, my life at home was very chaotic and cramped as my mother, a hoarder, filled every available space with possessions and was obsessed with collecting. My father died when I was 17, leading to my mother's hoarding escalating to extreme levels. My work is a combination of the joy and sadness of these memories and present day reactions to beauty in the natural world, both here in Devon and as I travel.
Does your background in Performance Art come into your current work at all?
I started out as a painter and moved into Performance Art, drawing on the collaborations of Robert Rauschenberg, Merce Cunningham and John Cage. My approach to performance was always as a painter working in space. I've always been interested in exploring confinement and open space, and this continues in my work today: I create space in my work in order to control it.
Tell us about your photography. What references are you drawing on in this work?
I started photographing abstract marks on walls and surfaces in late 2010 whilst traveling in France, then Cambodia, Vietnam and Laos. This was my way of painting with my camera whilst backpacking and on the move.
Subsequently when I travelled to Southern India in 2013, I found that the subject matter I photographed was influenced by the liminal abstract landscape/seascape themes that had been driving my studio painting work.
How do your paintings and photographs function differently, and how do they work together?
I have seen a developing symbiosis between my photography and my painting. I discover fantastical worlds when I photograph surfaces as I travel, and the same goes for my explorations in paint.
While photographing, I find colour palettes that I would not usually be drawn to when painting. This then has an influence on the direction I take with my painted studio work. And similarly, my painting process plays a part in my photography after I've spent a long stint in the studio.
Ian, what is it about Photography that appeals to you as a medium?
My introduction to photography was as a small boy in a makeshift darkroom my grandfather had. The process seemed magical and alchemaic. I was immediately hooked and over 50 years later that transmogrification from light into fixed image still fascinates me.
Are people your primary subject of interest?
Yes, people are my primary focus - either by their presence as individuals or as part of a group they form. I'm also interested in the traces people leave behind over time.
What are the ideas behind your Defaced series?
I'm intrigued by the idea that an image of a person can elevate them temporarily. After that, fame or notoriety can fade. These images of degraded and defaced posters on walls in Southern India of politicians, movie stars, celebrities, obituary notices and people wanted for crimes are my way of illustrating Warhol's notion of '15 minutes of fame'.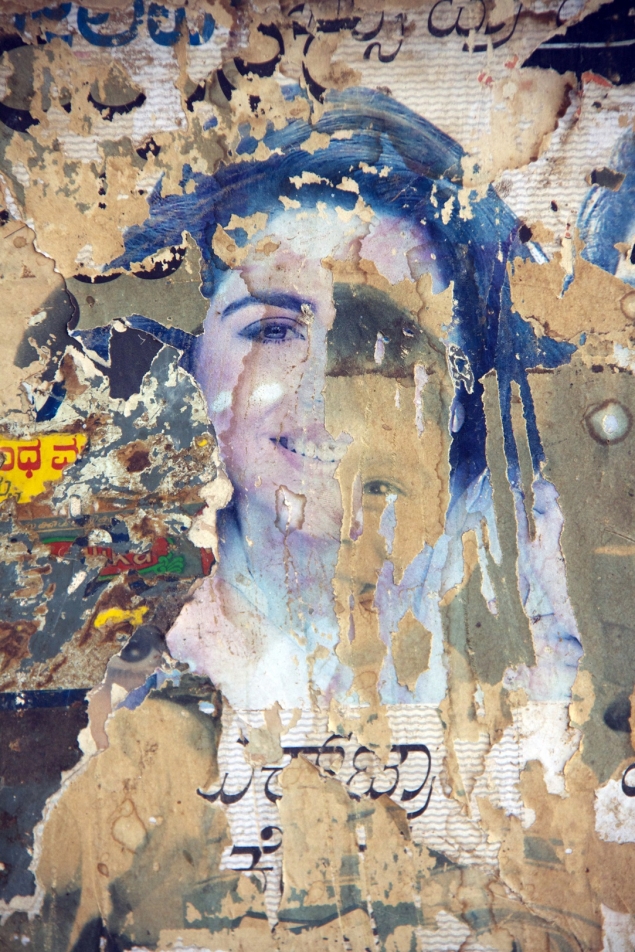 Sometimes you shoot in black and white, and other times in colour. What informs these choices?
I haven't used colour film since I worked freelance for the BBC's Picture Publicity Department 20 years ago. I can't develop it in my darkroom and I like to be in control of the image processing at every stage. The translation from colour to tones of grey is important for some subjects and not others.
My Defaced series would be very dull in Black and White, but the series I'm currently working on about the buildings that some Christian congregations use as their churches would (for me) become a simple record of architecture if it were in colour [see an example from this series above]. There is also a timeless element to Black and White.