Meet Miguel Vallinas Prieto, the Spanish artist using surreal photography to explore themes of identity and human nature. Miguel discovered photography in his teens and began developing prints in a homemade laboratory built by his father. Now his photographs are held in private collections around the world and his images are featured in the likes of Vogue, Vanity Fair and the Guardian.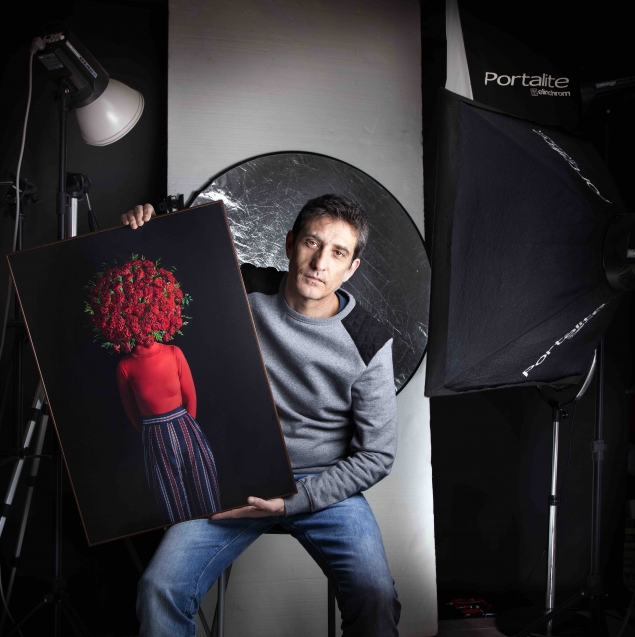 Miguel's experience at an advertising photography studio laid the foundations for the process he would follow in his future work: staging scenes that tell a story. In Miguel's most recent series, entitled 'You Are', that story is a tale of female empowerment. Discover more about the Miguel's new work and find out which artists have inspired his surreal style.
When did you know you wanted to be an artist?
I didn't know I wanted to be an artist, but I've always known that I wanted to tell stories. Since I was little I liked photography, painting, illustration and cinema. I've always liked music too. I had my own band but that didn't work out. My painting classes didn't work out either - I didn't have the patience to see my paintings finished.
The only thing I was able to see through was photography, so my father built a laboratory at home for me. When I was 17 I decided that I wanted to be a photographer and that's how I found my way of telling stories to others.
I studied Photography, but my best lessons were during the time I worked for an advertising photography studio. We produced photos for furniture catalogues and every photograph was composed from scratch. I did everything - from designing the space and building it, to mounting the entire room on the set.
What is the concept behind your new 'You Are' series?
You are the one who resists the storm… You are a refreshing breeze… You are the one who shines a light... You are…
The theme of this new work is the incredible role of women. I capture different roles and attitudes that women embody. Although the photographs show static moments, they represent scenes that play out over and over. "Carrying the house on its back", "sustaining the world" or "being the branches of the tree" are qualities intrinsic to women. And they're continuous over time.
Tell us a bit about your studio.
I live in a small town of 20,000 inhabitants in central Spain. By definition it's quiet. I'm finally building a home studio there - it's bright and overlooks a huge patio where I'll plant fruit trees. My wife and her sister have an architecture studio in the town. They are my stylists and often the models for my photographs.
How do you achieve the surreal effects in your photographs?
The most important thing is the idea. Once the idea is in my head, the possibility of taking the photo exists. What's left is to carry it out. When I really believe in what I am going to photograph, when it's lodged in my mind, it's easy for me to take it to the scene, photograph it and work on it. My photography exists previously, it already has shape - even if only in my head.
Which artists have inspired you?
Many artists have inspired me throughout my life. With regards to my current work, magical surrealism is obviously a big influence. Dalí, Miró… And I don't know how many times I've read 'Cien años de Soledad' by Garcia Marquez.
Everything around you can be inspiring, you just have to want to look. When it comes to photographers, for me Humberto Rivas is the most magical. I thank him for awakening in me my interest in photography.