Elizabeth Waggett's exquisite drawings are fantastically detailed and rich, highlighted by a monochromatic palette that is often adorned with gold leafing. The British-born, New York-based artist tackles hot button issues in today's society, using imagery like lobsters, skulls and butterflies to explore consumerism, value and worth.
We sat down with the Rise Art Finalist to see what makes her tick. If you love her work, come check it out in person at our Rise Art Prize finalist exhibition in February at House of Vans, Waterloo.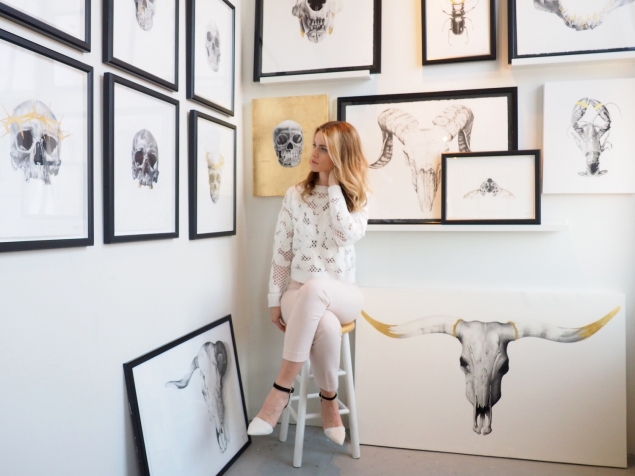 How did you get started? Did you always want to be an artist?
I have been an artist since a very young age. I can't remember a time when I didn't have a pencil, paintbrush or was sculpting something. I've never stopped. I've always had an insatiable interest in materials and their properties and how I can manipulate them.
From being very small I'd make games from cereal packets and magazines and anything I could get my hands on, scraps of wood, everything made, never interested in the new expensive toys, I was happier in my granddad's wood shed building things or with a glue stick and scissors.
Have you always worked (primarily) monochromatically?
Yes even back in school my major finals project was completely white. It does something special to me, makes my heart beat faster, often I prefer what isn't there over what is. The impact that a Franz Kline or Robert Longo or Christopher Wool piece has on me, makes me only want to explore this further, it feels like a drug.
Your pieces are very detailed and meticulous, can you tell us about your process?
I suppose my work is about accuracy and whether there are such things, so the drawings tend to be a sum of corrections in terms of drawing, in terms of mark making. So that there are many many marks and everything is built up on a simple frame but there is a great deal of work in it and the work tends to correct what lies underneath constantly until I say 'that's it, I'm finished'.
So it's a long process, very very long, as much as these pieces are meticulous I don't nor ever have described myself as hyperrealist, photorealist etc, for me that can be boring, I want to see the hand of the artist in the work, create an impact from a far that requires a closer inspection and scrutiny from the viewer.
In general your subjects tend to be masculine or aggressive- skulls, guns, grenades, with the occasional insect (or lobster) - why do you think you gravitate toward "tough" imagery?
I don't view these as tough imagery but as objects that allow the exploration of the context. I work with objects that deliver themselves well through the medium. The idea behind the object is not the object itself. I want to strip away this feeling of stereotyping the physical object, its the power behind the thing gives it aggression while the object itself is the beauty.
How do these symbols convey your exploration and discussion of societal constructs?
Taking something with a stigma attached and exploring all the other angles within it is my stance on questioning those societal constructs. For instance linear thinking that something is as it is, or how you have been told renders the object as one way only in your mind. Add in the subtle context which is gold for me and you have a new way to consider the piece.
My work is there to open up a conversation not tell the viewer how to think.