Leila Fanner's metaphysical paintings are interwoven with dreams and personal dream symbols. The South African artist captures on her canvases a spiritual view of the African environs and characters that surround her in the picturesque Riebeek Valley, 75km north-east of Cape Town. Leila's paintings are held in private collections in South Africa, Germany, France, Kenya, the UK and the US. Her work has also been featured in British Vogue Gallery. We can't wait to learn more about this standout Rise Art Prize applicant.
When did you know you wanted to become an artist?
When I was very young, around 4 yrs old, I was an artist. During my school years I became fearful of struggling to make ends meet - like my artist mother. So I ran away from my truth and into the corporate world for a while.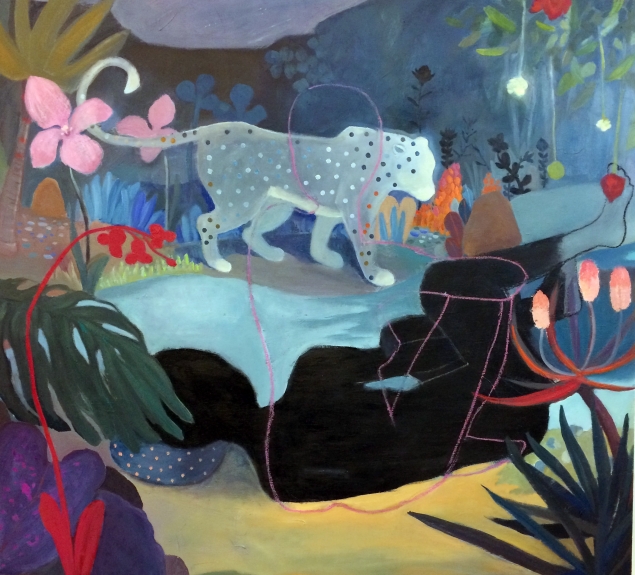 Tell us a bit about your creative process.
It starts with a vision accompanied by an emotion. I can't really create without those two active within me. With my abstracts, I start with layers of colour: I draw some elements, create texture and finally make marks and get into the details.
You have interesting heritage, having been born in California to South African and African American parents. How does your background come into your work?
I have moved house around 38 times in my 48 yrs. I think the emphasis I tend to make on a dreamlike safe haven - a peaceful garden world where nature dominates, is my way of expressing a desire to find my true home - a place to feel completely accepted and at peace.
Kinds Daughter and the Saddle Bills by Leila Fanner
Depicting a central black figure that is more of a being (a space), rather than a human, is how I explore the notion that being is more important than having - which is something you can't help learning when you never have a sense of home or roots.
Faith by Leila Fanner
What do you love about your studio space?
It has a gorgeous view of the Drakenstein Mountains. There are French doors that let lots of light in, and it's in a peaceful little village on a quiet untarred road. I am truly blessed to have it all to myself.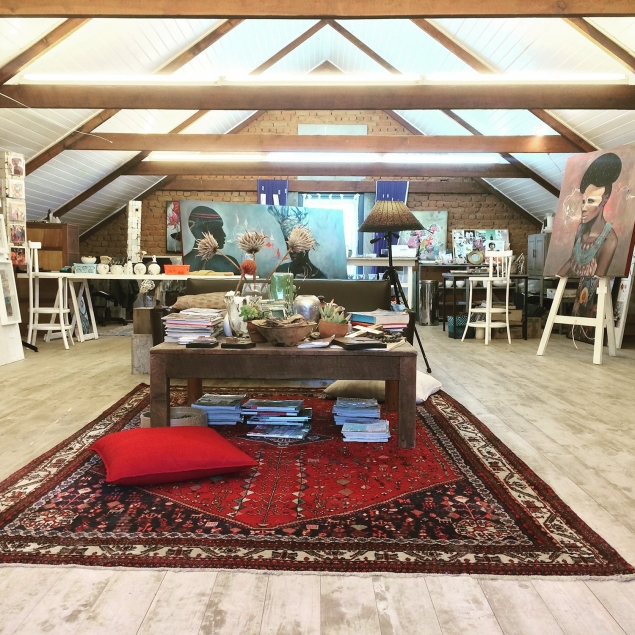 Do you have a favourite or most meaningful work?
At the moment it's the series At The Table that I've had to put on hold, as I'm in the middle of moving to my new studio. I have ideas continuously percolating up waiting to have life breathed into them - and I'm toying with sculpture ideas as well. Exciting.
What's your favourite inspirational quote?
I have a new one every few weeks! Right now it's: "The primary cause of unhappiness is never the situation but your thoughts about it." (Eckhart Tolle)
What are your aspirations for the future?
I am focusing on being more fully present here and now to the beauty of this moment - no matter what it brings. The future is made up of all the 'now's I have lived before, so this is the only time and the only way I can affect the future.
2 Days Left to Apply. What are you waiting for?