This year, Frieze Art Fair was bigger than ever. Quite literally. We walked until our feet ached, and then walked some more. There were so many exciting stands to see and we didn't want to miss out on a single one. Thank goodness Gail's had set up shop to keep the crowds caffeinated. That said, we were awed by what we saw. Here are five team favourites that stood out for us at Rise Art.
1. KAWS, Galerie Perrotin
A general Rise Art team favourite has to be the KAWS pieces on display. This Brooklyn based artist is one of our very own featured artists at Rise Art, and we're always captivated by his transformation of pop culture icons into thoughtful works of art.
2. DICKON DRURY AND KRIS LEMSALU, KOPPE ASTNER
Teddy Hall, our Creative Associate, found her favourites at the Koppe Astner display. "Dickon Drury's paintings have a charming naivety to them," Teddy enthuses. "By flattening the landscape, he creates depth through asymmetric reflections. And when placed next to Kris Lemsalu's towering sculpture, an ocean theme emerges, conjuring thoughts about our precarious relationship with the planet." Very insighful indeed. Teddy goes on, "Both artists' use of vivid colours and an allusion to the unstable drew me to this booth."
3. Peter Lanyon, Richard Green Gallery
Our Artist Champion, Izzy Proby, was very pleased to find a piece of Peter Lanyon's work at Frieze Masters. "I love the composition and colour palette of Peter work," Izzy explains. "He took inspiration from the movement of air while gliding to offer a remarkably unique interpretation of the South Coast." She adds, "His pieces transport me to a different world and (almost!) tempt me to go gliding." Perhaps that was the bubbly speaking.
4. Enrico Baj, Luxembourg & Dayan
Our Head Curator, Rebecca Gordon, had a ball at Frieze Masters. If she had to choose a favourite display, it would have to be Luxembourg Dayan's stand featuring Enrico Baj. "Enrico Baj is one of the most fascinating and contentious artists from the postwar period," says Rebecca, "and Luxembourg & Dayan's presentation of The Artist's Home for Frieze Masters was definitely a crowd pleaser."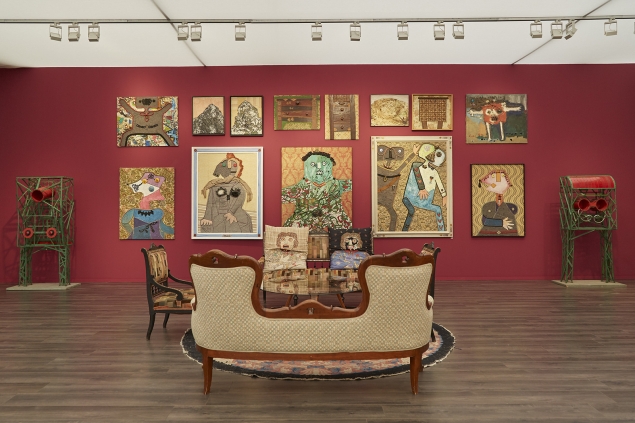 5. Renate Bertlmann, Richard Saltoun (Sex Work section)
Aimee, our Editorial Associate, was somewhat taken aback by the Sex Work section at Frieze. "Initially I was shocked by the lewd visuals that surrounded me," Aimee explains. "But as I learned more about the broader feminist project behind the imagery, I came to see the power and protest that lay at the heart of the explicit content." She goes on, "For years, Renate Bertlmann's feminist artwork was banished from galleries and museums. Her 1999 Kaktus installation is a cry against the art establishment's thorny response to women's expression of their sexuality."
Here are some snaps of other pieces we loved at Frieze. Which were your favs? Let us know.
Browse our collection of original artworks