Wayne Sleeth is known for his visceral, abstract works that capture a new and unique perspective on traditional landscapes. Taking inspiration from the great Claude Monet, within his latest ongoing series of 'Monet' works, he uses spray paint and bold colours in an expressionist style to construct modern interpretations of the famous waterlily works. Painting has always been a part of his life, and here he shares with us his journey thus far as an artist, from relocating to Paris, to transcending from classical to contemporary styles of painting. See into his studio space and browse his latest works below.
When did you know you wanted to be an artist?
I've always drawn and painted, but l'd say when I was around 14 and an art teacher showed us some examples of Cubist painting, something clicked and l knew what l was going to be doing later in life.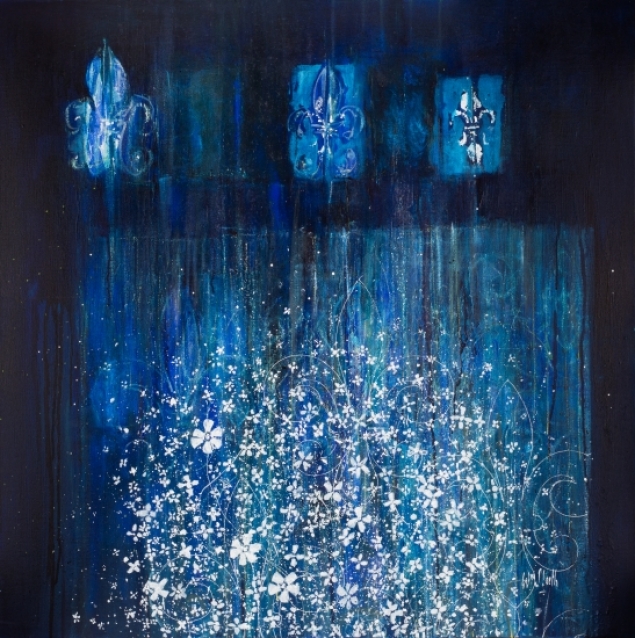 What was the first artwork you ever made? Can you remember?
No. I started really young, and remember always working on the floor, as l still do! But some odd souvenirs stick in the mind; from making giant Christmas cards for a school play to creating my own comic and selling copies to school friends.
Do you have a favourite or most meaningful piece?
No, it's part of the mystery and beauty of what we do to say honestly that the latest is always one of the best, but the next one too, and so on! It's the creative act that is the most precious, the result is its by-product.

Who are your favourite artists?
I've been on a long pilgrimage since last year with Claude Monet, whom l've always admired. But Turner, Rothko, Tapies, Klimt and Basquiat are all important to me. I'm quite eclectic in my tastes, but they were all masters of their own form of expression.
Tell me a bit about the process you use to create your work. What visions and inspirations are behind it?
Mid-career l was happily painting and exhibiting non-stop but felt the need for a new challenge, to keep evolving. I had always held my more contemporary inspirations (street art, new media and installation) at bay with my 'classic' temperament, and a basic love of canvas and paint. But abandoning the brushes for spray cans in 2015 l went on a learning curve, keeping an old favourite - Claude Monet - as company. I began some waterlily paintings that were both freestyle and spontaneous, and thought the adventure would stop there. But 60 canvases further down the catalogue, l'm still making what l call 'Monet Monet Monets'. I've found a happy medium, in every sense of the term, and the public warm to it everywhere too.
What has been the greatest impact on you as an artist to date?
I couldn't choose just one, it's a cumulative thing. I'd say travelling, having some excellent teachers in the past, moving here to France to live and work, but also visiting certain exhibitions like the Rothko retrospective at Tate Modern, the Monets at the Orangerie and Marmottan in Paris, and his estate at Giverny in Normandy.

Give us a quick one line about your studio space - what do you love about it?
It's big and light and calm; l'm lucky to work from where l live, in the French countryside. I love being able to step directly out into the garden.

What's playing in your studio right now?
For a long time l worked in silence, then l went through a period of listening to all kinds of music, from classic to jazz to minimalist music like Philip Glass and Michael Nyman's work. This year, l've settled back into silence. So much goes through my head when l work, background noise is enough!

What's the most important object in your studio?
In practical terms, the sink! A beautiful old workbench that l've restored, a sixties red and black armchair to reflect in... In artistic terms, there are a few ornaments on the shelves that l can't part with; a collection of miniature owls, some odd French handmade tools, and a watercolour by my father.