Trending This Month
The Rise Art Advent Calendar is Here!
The Rise Art Advent Calendar has landed and you have every reason to get excited about it. Our curators have hand-picked a selection of 25 beautiful artworks to tempt you with this December. Every morning we'll release a new piece, not only offering you an exclusive 15% off the purchase for 24 hours, but also giving you the chance to enter our competition and WIN an artwork of your choice*! Each week we'll be giving away one work to a lucky winner, and all you have to do is keep your eyes peeled on the Rise Art Facebook and Instagram and follow our three simple steps:
1. Like Rise Art
2. Like your favourite posts
3. Share a comment and let us know what you love about the artwork!
Head to @RiseArt_ and start feeling festive!
*Subject to availability
Rise Art News
The Yatzer Gift Guide 2016
Globally renowned and award winning blog Yatzer - the destination for lovers of design, architecture, fashion and art - recently released their Christmas Gift Guide, with a stunning print by Rise Art's very own Alexandra Gallagher making top of the list. Chasing Poppy is a limited edition signed print in bold colours that perfectly balances delicacy with decadence, making a glamorous statement in any home. Whether you're looking to dazzle dinner party guests this holiday season, or make someone's Christmas with a stylish and timeless gift, browse Alexandra's affordable prints for some inspiration.
Hormazd Narielwalla @ Southbank
If there's one reason to visit Southbank this December (and no we're not talking about the Christmas market) it's to see the extended exhibition of works from renowned artist Hormazd Narielwalla. His Lost Gardens solo show began in the summer, but after receiving lots of attention, with articles from Fad Magazine, The Guardian and AfterNYE, the show has been extended until 15th January 2017. Take a stroll along the Thames and get lost in the colour, texture and geometry of Hormazd's original works. Too far to go? Browse his latest releases on Rise Art.
Art World Happenings
Need we say more? It's Art Basel. It's Miami Beach. What would we give to be there? Anything. Combining a series of selected works from 269 leading galleries spanning the globe, this show is one of the annual highlights of the art world, and our news feeds are definitely blowing up about it. Renowned street artist Hush is smack bang in the middle of things as per usual, live painting and pasting a series of murals as part of the Wynwood Walls project.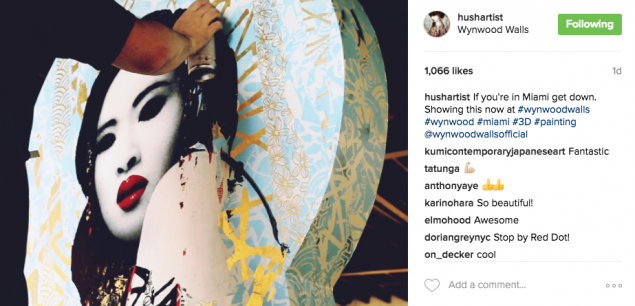 The artist has recently released a series of new artworks on Rise Art that we'll admit to longingly lusting over. These limited edition prints never stick around for too long, so go and take a look!
Turner Prize Winners
On Monday 5th December art history will be made in London as the winner of this year's Turner Prize is announced. Check in to the Rise Art blog on the day for our Tate Modern insider Jessye B's scoop on the 10 Things to Know About the Turner Prize. Did you know that Tuesday is the 'Pay What You Can' day? (Spoiler alert!)
In the spirit of Art Basel Miami and the impending result of the Turner Prize, we're going to tempt you with our latest curated collection of paintings to covet. From large statement works, to small intimate pieces, discover the perfect piece, whether it's a gift for a loved one, or the next addition to your home.