October was a busy month for art in London, with all the commercial art fairs springing up across town. From the ever cool Frieze in Regent's Park drawing the big crowds at the beginning of the month, right through to the free (!) Grid Art Fair happening at Old Truman Brewery this weekend. And of course, being the art lovers we are at Rise Art, all of our curators, insiders and team were out and about scoping their favourite works and the artists to watch. Here is the Rise Art run down of our top 10 from the October fairs.
Frieze London
1 Hans Op de Beeck
Head curator Rebecca Gordon headed for Frieze on preview day and spotted this highlight from Hans Op de Beeck at Galerie Krinzinger. Typically avant garde and minimalist, it's a classic piece from the renowned artist.
2 Portia Munson
What a spectacle. Portia Munson wowed at P.P.O.W. and was definitely one of the fair's biggest talking points with her updated version of Pink Project: Table, 2016. An artist after my own (pink) heart.
1:54 Contemporary African Art Fair
3 Daniele Tamagni
Artist Champion Hannah loved the photography on offer at the 1:54 Contemporary African Art Fair at Somerset House, and Daniele Tamagni was her stand out. Street photography with a distinctly African twist.
4 Alexandra Karakashian
Alexandra Karakashian who exhibited at SMAC Gallery created a site-specific installation for the fair titled PASSAGE. A piece weighted in her family's escape from Armenian genocide and their eventual settling in Johannesburg. Highlighting our relationship with place and some very current issues around migration and ecological crises, it was more than thought-provoking.
The Other Art Fair
Artist Champion and curator Natalia scoured the Other Art Fair, meeting up with some of our current Rise Art artists as well as hunting out some newbies (watch this space). Amongst her favourites were Rebecca Mason's amazing neons. Mason uses irony to expose some of the lies we tell to ourselves every day. Very clever and funny.
Nat also loved Matthieu Leger's large scale paintings. A fantastic combination of geometric patterns and surreal landscapes. She said, "His paintings always make think of the moment of quiet right before the storm hits."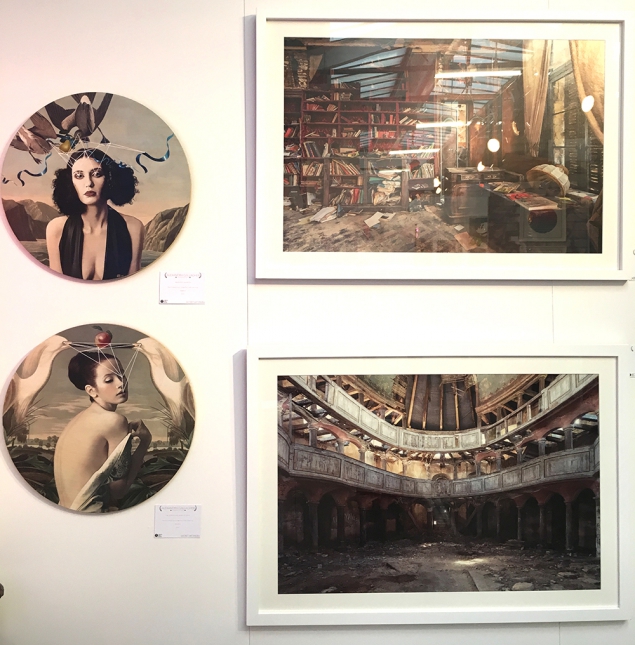 Special mention: Gina Soden and Alex Gallagher in the Secret Art Prize booth - so nice to see our girls together!
Sunday Art Fair
7 Neil Raitt
I am a big fan of the Sunday Art Fair, arguably the cooler, younger, hipper accompaniment to Frieze. I loved the installation by Neil Raitt for Anat Egbi, palm tree filled paintings complete with real sand and a deck chair. I discovered Neil's work years ago in his studio in Seven Sisters, and it's great to see his career going from strength to strength.
Affordable Art Fair
We are big fans of Louise McNaught's colourful, animal filled prints which are undoubtedly fun, easy works to live with a design-led edge. All the team especially loves her gorgeous new piece Soul Mates, if you missed her at AAF, there's still plenty to see on Rise Art.
Peter Hawkins also stood out at this fair for his bold, striking images and dynamic brushworks. Head curator Rebecca also loves the 3D effect his painting takes on.
Grid Art Fair
10 Cody Choi
Call us biased, but as Grid Art Fair opens this weekend (and is free for all to visit!) we are sure the fabulous Rise Art photographer Cody Choi will be a highlight. His works are rooted in his background in dancing, and he captures movement like nobody else.
As October draws to a close art is the one thing on everybody's lips. Browse this month's top picks collection from our resident curators Rebecca Gordon and Nat Rubinstein, featuring new and trending works on Rise Art.