Aisling Drennan's energetic, provocative canvases are symbolic of her unwavering passion as an artist. With each new canvas, she deconstructs the very method of painting itself, exploring conventions of colour, texture and technique, to create moving, almost formal scapes that alienate the familiar. Art has always been a calling for Aisling, so after years of travelling the world as a professional dancer for Riverdance, she finally hung up her dancing shoes and picked up the paintbrush, pursuing the trecherous path of the artist. We're glad she did, and it seems to be paying off; she's won various awards for her artworks, exhibited across the UK and been featured in magazines such as Fresh Paint. After moving to London for her MA in Fine Art at Central Saint Martins, she's now set up studio in the city, avidly paving her way as a painter. We caught up with the artist between projects, getting a glimpse behind the scenes at her studio and quizzing her about what makes her tick. Browse her new pieces and keep your eyes peeled for more releases soon!
When did you know you wanted to be an artist?
My mother is an artist and I grew up with the scent of turpentine and oil paint. I have clear memories of running around her studio pretending I was Wonder Woman, stopping every so often to consider what she was painting. An air of creativity was always present; art has been a continual part of my life, there wasn't a point where I decided I wanted to be an artist, it was just a given.
Do you have a favourite or most meaningful piece?
Yes, I have two. The first is The Line-up, 2008 which is an abstract line of figures made from traced pieces of dried acrylic paint. Once projected, this created a silhouette of moving figures. I made this painting when I began my BA Fine Art. I had just retired as a professional Irish dancer with Riverdance and had transitioned from an amazing life of five star hotels and champagne to grotty digs and beans on toast! It was a massive change but one I look back on very fondly now.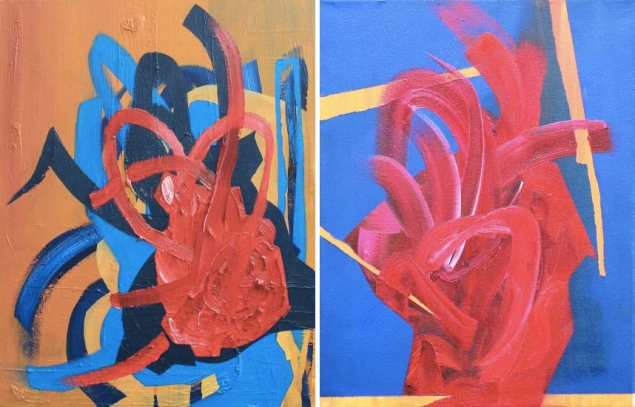 The second is Red Rational Rumble, 2011 which won an award in recognition of excellence for painting from the Royal Dublin Society Graduate Art Awards. I had just finished my BA Fine Art and leaving the wonderful environment of art school can be a daunting experience. The award gave me an injection of confidence and helped to financially pave the way towards my MA Fine Art which I completed in 2014 at Central Saint Martins, UAL.
Who are your favourite artists?
I tend to ebb and flow between various artists but my staples are Willem De Kooning, Joan Mitchel and Sean Scully.
Tell me a bit about the process you use to create your work and the vision that lies behind it.
Building a conversation between the materiality of paint and how it can be structured while exploring its limitless mark making possibilities are the focal concerns of my work. It's a very empirical process that sometimes drives me mad. A lot of my work is about instinctive, visual decisions. Sometimes this goes catastrophically wrong but I believe failing gloriously is part of the process; it's how I learn to trust my own instincts.
What do you love most about art & making art? What do you hate most about it?
Painting demands a particular type of concentration and that is the most absorbing thing for me. A close second is the sheer physicality of paint as a medium; there is something so indulgent about mixing large swathes of oil paint. I hate when I can't get paint completely out of my larger brushes!
What has been the greatest impact on you as an artist to date?
The discipline I learned as a dancer. The life of an artist is not an easy one. If I didn't have the training and application I learned from a very young age through dance, I'm not sure I would have come as far as I have as an artist. As in any creative professional practice, patience and persistence are key.
What do you love about your studio space, and what's playing in it right now?
I love that my studio is a tiny space in a massive, bustling, chaotic city where I can go and get lost in my paintings.
Hmmmm currently Michael Nyman, London Grammar and I always have some Lauryn Hill. Nina Simone is a regular too; the emotional depths of her vocals never cease to amaze me.
What's the most important object in your studio?
For many years I have kept visual diaries. I am quite meticulous about their format for example; I only use A4 black hardcover books. They act as intimate reminders of my thought processes and what has led me to this point in my practice. I regularly flick through these to recap on the visual vocabulary I have developed. Also I have a pair of overalls that I have painted in for years. They're beginning to look like a Philip Guston fashion statement!