Abstract artist Harriet Hoult is the latest in our series of #ModernMarketers. This London based painter is hot on the scene right now, well known for her buoyant, beautiful artworks featuring clamours of texture, colour and pattern as acrylic, oil and watercolour infuse on a canvas of paper.
Harriet's paintings are in huge demand and she's usually the first to sell out at various art fairs across the city. Calming cool tones and a contemporary aesthetic characterise these honest and expressive works; they add zen to any room, trust us! We quizzed Harriet about her go-to sources of inspiration, who she loves to follow on Instagram and how she uses social media to propel her career. Read on for more, and don't forget to head over the Rise Art Instagram (@Riseart_) to catch her takeover today and see her getting messy in the studio.
Tell me about the work that you make.
I work with acrylics and mixed media on paper. The work is bright, colourful and abstract and very much my own style.
What's the best response you've ever had to an artwork?
I don't know what the best response I've ever had is, but it's always wonderful when people get in touch after they have bought one of my pieces to tell me how much they love it and about the joy it brings them.
What's your social media medium of choice? Who do you follow?
I really like Instagram (@HarrietHoult), there is a great feeling of community amongst creatives and people are really supportive of one another, it's also a wonderful source of inspiration for me. I follow lots of people / businesses / blogs doing a whole range of creative work - to name a few: Heather Day (@heatherdayart).
Do you like being able to share your work in this way? What are your top tips for a great profile?
Social media has been a really important part of my life as an artist. It helps me to network with other creative people and gain inspiration and support from them, and it has also been a pretty strong sales and marketing channel for my work. I was recently approached by Kit & Ace (@kitandace) to fill their Borough store with art and curate the space.
I've made quite a few sales as a direct result of posts that I've made, particularly on Facebook (@harriethoultartist) and people who have come to visit me in the studio have often commented that they follow me on social media.
In terms of top tips for a great profile, I think that its important that a person's profile truthfully and fully reflects the artists personality and their overall style. People love seeing pictures of the artist in action, of their studio, their working clothes, their paints etc (@harriethoult). If people like your work, they also want to know where you make it, how you work, and to get an insight into your day to day working life - it seems to adds depth and interest to the work.
What or where is your go-to for inspiration?
Ooohh, I get inspiration from all sorts of places - a walk in Richmond Park or through London, going to a gallery or exhibition, listening to a good podcast, having a great chat with someone and many more!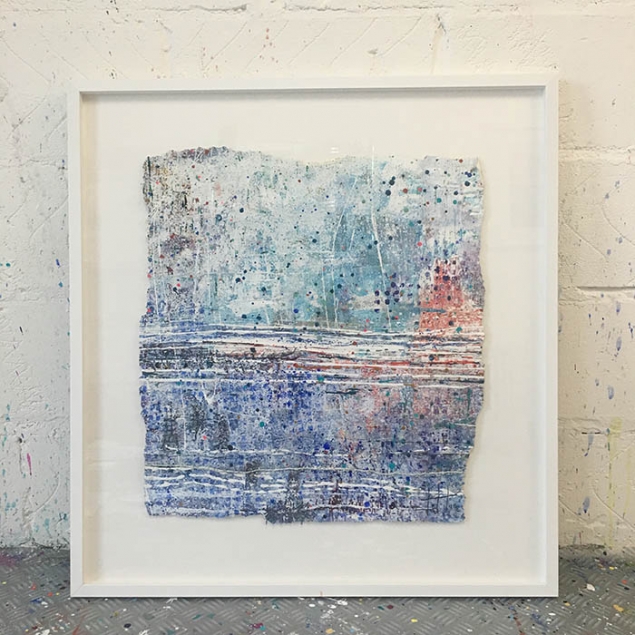 Where's your favourite place to travel to?
Probably my favorite place in the whole world is Cornwall. I spent eight months living and working there a couple of years ago and it has had a big influence on my work.
What do you love most about art & making art? What do you hate most about it?
I love working for myself and not having to answer to anyone - and the freedom that comes with that (I worked in a corporate role for many years). I love my studio and the fact that I can get really messy every day! I hate those stuck times when things just aren't flowing.
Where do you work? What's in your studio?
I have a new studio space at Wimbledon Art Studios. I've only been there for a few months and already there is a lot of paint all over the floor!
Who are your idol artists?
There are a few artists that spring to mind that I really admire. The first is Sandy Brown, who is a ceramicist and artist based in Devon. I was lucky enough to be mentored by her a few years ago and I love that she has so strongly taken her own path, and found her own very unique way of working whilst being very successful with it. Her work is very instinctive and she manages to speak about the abstract nature of it in such an articulate and real way. The second is Heather Day who I also mentioned above. Heather is an abstract artist based in California. She is still very young but has already been incredibly successful in her relatively short career. I love her style and the way that she communicates herself and her work to the world (@HeatherDayArt). Finally Barbara Hepworth's work hugely inspires me.
What gets you out of bed in the morning? What puts you to sleep?
Going for a run. It's never that fun at the time, but I always feel great afterwards.
A nice long bath and a good book.
If you could have your artwork in any museum, collection, or building in the world, where would it be?
The Tate Modern in London.