A Rise Art Q&A with mesmerising seascape photographer, Kimberly Poppe.
Curator Adriana Marques says: "These meditative visions of seascapes capture what we all crave, not the infinite, but time. Shot through long exposures, these soothing images offer us the promise of calm through colour, light and water."
How did you take these images? Did you use any special equipment?
These images were taken simply with a camera using a slow shutter speed and deliberate camera movement, mostly with my bare hands or occasionally using a tripod.
The setting looks so idyllic! Where did you take the photographs?
I spend a few months in Australia each year. This is where most of these images were taken. There is a special open and spacious quality of the land, sea and sky there. The light is also incredibly clear and bright. Unobstructed. The images are a combination of the different elements of earth, water, air and fire. Many of the images were taken in the same location. It is simply the time of day, the light or the weather that creates the differences in the floating bands of colour.
What inspires your artwork?
The Impressionist painters, especially Monet's later works, have always inspired me, particularly how they played with light and color. So, I started experimenting to see if I could capture the essence or the impression of what I was seeing with my camera, without the hyper-sharpness of detail that pervades most photography today. I also have always loved Mark Rothko's paintings and the meditative quality of his work so I'm sure that must have had a sub-conscious effect as well. Meditation is a large part of my life (I'm a practicing Tibetan Buddhist) and I like to create art that gives people's minds space to rest.
Are you thinking about creating more in this series or are you working on a different series of work now?
I am always open to creating more images in this series. Interestingly though, this series is not the main focus of my photography. Most of my photographs capture whatever it is that I see, simply and purely as it is, without manipulation like camera movement. Usually I don't set out to try to capture anything in particular. Instead I try to go out exploring without expectations and with an open mind and open eyes. Somehow, it sounds much easier than it actually is in practice! I would highly recommend Andy Karr and Michael Wood's book, The Practice of Contemplative Photography, for anyone interested in developing a new and fresh way of seeing the world.
How did you get in to photography?
Creativity has always been an important part of my life and I have always enjoyed taking about photographs. I first started seriously playing around with photography when I took my grandfather's old 35 mm camera with me on my first trip around Europe. Now, I find that being a photographer helps me to be more fully present and freshly experience the world. I hope that my photographs do the same for whoever sees them.
What is your favourite thing to photograph and why?
Whatever I see! Meaning, whatever it is that reveals itself in any given moment, no matter how seemingly ordinary or mundane—how the light strikes the kitchen cupboard or reflections on a wet parking lot—those moments of seeing a different aspect of reality, beyond the veil that usually permeates our lives. The extraordinariness in ordinariness.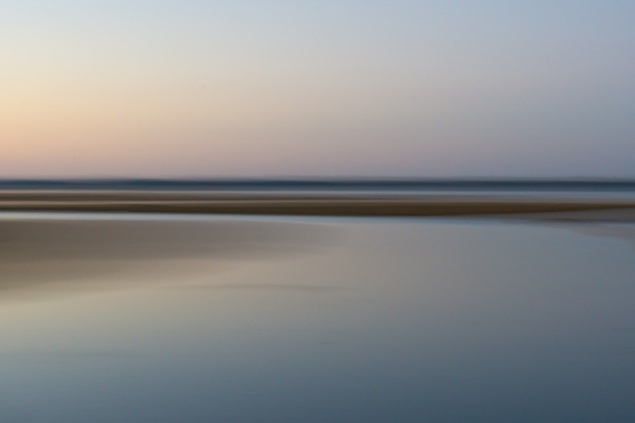 See more of Kimberly's meditative seascapes by clicking here.
or immerse yourself in more fine art photography, click here!