To gauge perspective, Frieze features over 150 different galleries; with international curators, artists, collectors and dealers contributing to the event. Third only to Venice Biennale and ArtBasal, Frieze is invariably pinnacle to the Art World's calendar. Yet on top of this, every Gallery on the West End is intent on having their glossy hand in the affair, with huge and multiple private views, guests and champagne litter the galleries of West London. As you can imagine, it's impossible to venture to every viewing, and albeit playing an elaborate game of hide and seek with editorial intern Charlotte, between us, we gave it a good go. Here's a couple of things I thought I'd share...
Klee
Monday evening, as tradition, the Tate holds the opening event (this year the PV for the Paul Klee EY exhibition) which creates a great opportunity for meetings and catchups with new and old friends preceeding the opening of Frieze. The Klee exhibition in itself was both astounding and mystical, the first large retrospective of his work for many years, the first opportunity we've had to see his work in such depth.
Candy
Tuesday evening, Damien Hirst's and Félix González-Torres' new exhibition, Candy opened at the Blain Southern Gallery. What is interesting is that alot of people in the art world don't think Damien is a very good painter. The point to make is that - going back to Warhol with his factory of an army of workers and more recently, say, Jeff Koons who also has a large team to fabricate his works - for Damien, painting is a solitary activity, he likes to paint alone in his Devonshire and London studios and this is something I find very admirable.
Groucho Club
Even 80-year-old Sir Peter Blake does his best to make it to Groucho Club post private views! After the Gagosian Gallery dinner, I, inevitably, found myself at Groucho Club where Turner Prize nominee Jim Lambie was playing DJ and the newsest collection (including the works of Joseph Kosuth and Michael Joo) graced the walls.
Myself and Bob Geldof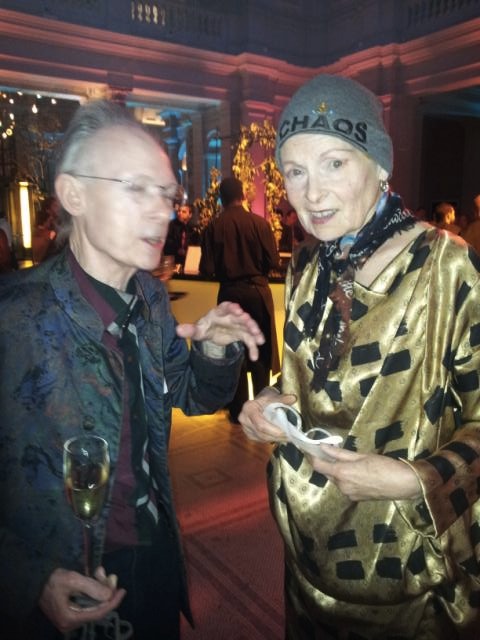 A blurry one of Vivienne Westwood (looking fabulous) and I
New Collectors Edge towards Old Masters
One thing that I've found particularly curious about this year's Frieze is that younger collectors, of whom, one might assume would be allured by the bright (and often neon) lights of modern art, are turning towards the more traditional pieces found at Frieze Masters. This is largely due to the lower prices, for example one gallery owner told the Telegraph that new customers had been "taking a step back" in surprise at how relatively low prices were, asking "shouldn't there be another zero on the end?".
Frieze VIP Hierarchy
The interesting thing with the first day of Frieze (usually Wednesday) is that there is a three tier hierarchy when it comes to entry. The first entry, usually between 11am-2pm is open to the super collectors, as in, 'The Saatchi's', 'The Rubell's' and celebrity collectors who like to collect quietly such as Jude Law etc. As Bob Geldof's guest, I was lucky enough to be endowed with the super VIP orange card, however I did not make it to Frieze until around 2pm, which is, for anyone who knows my timekeeping, rather impressive for me! For professional viewing, the next tier, opens 2pm-6.30pm, with the official 'Private View' commencing at 6.30pm-9pm. The main VIP area was catered for by the wonderful Margot Henderson of St Johns and Rochelle Canteen and the main sponsor of both Frieze and Frieze Masters, Deutsche Bank, have a 'super' VIP lounge in which pieces from their own collection, one of the most impressive in the world, were displayed. As per usual Frieze brought the weird and the wonderful and I suspect I will spend the next fortnight recovering!
View Anthony's Rise Art profile HERE. And if you want to keep track of the best in Art and Design, Take our ART STYLE QUIZ and BECOME A MEMBER. It is free and you'll get access to the best new art from top Museums, Galleries and Artists.