Street Art impacts my life on a daily basis. I cycle through the grime of East London, occasionally running over a few hipsters along the way, and I am blown away by the magnitude of all the art and all the talent that is breathing a new life into this iconic city.
You just have to take a venture through this side of town to see what I mean. Art as far as the eye can see, down every narrow road, plastered along every high street shutter and the derelict walls of buildings that are no longer fit to serve. From small sculptures that go-by unnoticed to huge murals which cover the side of buildings, Street Art has gone from a form of vandalism to the modern-day canvas where everyone with a can of paint is plying their trade. As Mr Four Fingers, we've done our own take on Street Art through our Left and Found series and have also tried our hands at stencilling, but confidence faded quickly when the riot police arrived…
You can now, without going to an art gallery, enjoy art on a variety of mediums by world-renown graffiti artists, illustrators, painters and sculptures and they don't ask for anything in return. The only downside is you don't get a free glass of wine to enjoy while gazing at the masterpieces and rubbing your beard appearing to be intellectual – this line is inspired by a Mobstr piece I saw in the Old Truman Brewery parking lot, which you probably saw and Instagram'd.
While attempting to do some research I stumbled upon this quote from Art Rad Journal:
'There is as yet no simple definition of Street Art. It is an amorphous beast encompassing art which is found in or inspired by the urban environment. With anti-capitalist and rebellious undertones, it is a democratic form of popular public art probably best understood by seeing it in situ. It is not limited to the gallery nor easily collected or possessed by those who may turn art into a trophy.'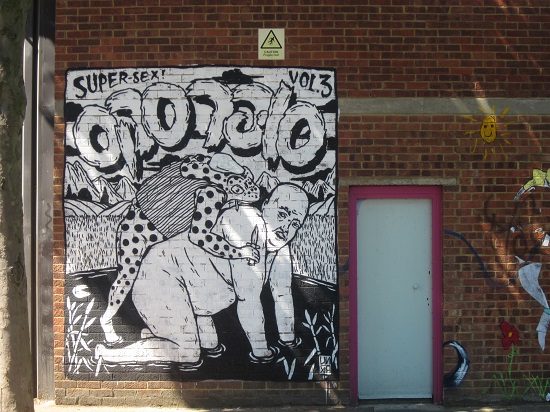 Spotted Frog Broken Fingaz Crew
Street art is now a medium where artists have the freedom to express themselves for all to see. It is exciting, captivating and ever-changing; spreading across major cities like wildfire. The likes of Shepard Fairey and Banksy have found a way to monetize this form of art, but for most artists it's not about the money (I'm sure it would help though), it's about passion and putting their creative stamp on the world. Companies, shops and building owners are welcoming this injection of expression and as a result this urban art is slowly shrugging off the mantle of vandalism and cementing its place as a major artistic influence for our generation and I for one am truly inspired by it all.
Click HERE to view Mr Four Fingers profile. And if you too, are feeling inspired, check out our URBAN RISE COLLECTION for the best Urban and Street Art available on Rise Art.