Choosing
We select, you choose.
We're curators – that means we use our expertise to find great art, great artists.
And because we're focused on value, not price, you'll find art to suit a range of budgets here.
It's not an online shop for anybody to sell their stuff. There are plenty of other sites for that.
When you buy from us, you're buying art – and that feels different from buying anything else in your life.
BROWSE ART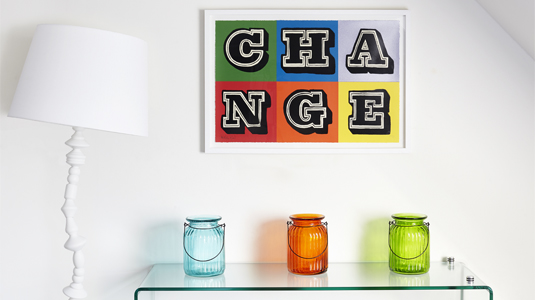 Buying
We try to make everything as easy as possible – what you see is what you get. We do add a shipping charge, which you'll see once you get to the checkout (just click on the basket icon).
BROWSE ART
Shipping
We handle all the shipping and packing — we'll show you how much it'll cost when you're at the checkout. In some cases there may be local import duties, but sadly there's nothing we can do about that.
FAQs
Framing
If it can be framed, we'll do it. We use frames in three colours: black, walnut and white (we can get other colours if you need them, just ask.)
FAQs
Trying (before buying)
We want to get rid of the guesswork – so we encourage you to try before you buy. To make sure the art you love is going to work in your space. For a monthly fee, you can borrow any artwork on our site. If you do decide to buy it (and most people do) we'll offset some of what you've already spent against the original price.
If you're renting a piece, you can also opt in to an additional damage waiver (not a bad idea if you have young kids or are particularly clumsy).
RENTALS