As lockdown lifts, we are all more keen than ever to spend time outside. We are also feeling the need to see art in real life, and not just online. Whilst museums and galleries slowly reopen, there's an abundance of art located on the streets of London that you can visit at your socially distanced leisure. From post-war sculpture to contemporary installations, here are 8 public artworks for you to find.
'Ventilation Shaft Cover' (1982) by Eduardo Paolozzi – Pimlico
Paolozzi's modernist, metal sculpture doubles up as an artwork and a ventilation shaft for an underground carpark. The artist has combined technology, machinery and nature, including intricate detail of insects and birds. It's typical of Paolozzi's interest in creating anthropomorphic, robot-like creatures. You can find this artwork in an open space between Nos. 1 and 2 Bessborough Street.
'London Pride' (1951) by Frank Dobson – South Bank
Located on London's South Bank, not far from the National Theatre, are seated these two nude and life-size female figures. Speaking about the classically imagined and voluptuous women, artist Frank Dobson commented, "I like my gals round and full."
'A Bullet from a Shooting Star' (2015) by Alex Chinneck – Greenwich Peninsula
This dramatic 35-metre-tall sculpture is composed of 466 pieces of steel. An upside-down electricity pylon, balancing on its tip, it looks as though shot to earth from the sky. Greenwich Peninsula was once home to the largest oil and gas works in Europe, and so it evokes the industrial history of Greenwich's past. The sculpture is best seen at night, when it is lit up.
'DNA DL90' (2003) by Abigail Fallis – Bromley-by-Bow
Art and science collide in this installation, made up of 22 shopping trolleys. Forming a double helix, it was made to mark the 50th anniversary of the discovery of the structure of DNA by James Watson and Francis Crick. The playful artwork also makes a serious comment on consumer culture.
'ArcelorMittal Orbit' (2012) by Anish Kapoor – Stratford
Created in collaboration with engineer Cecil Balmond, Anish Kapoor's large, looping artwork was made for the 2012 Olympic Games. At 115 metres tall, it's not only the UK's largest sculpture but the world's longest tunnel slide. Kapoor took inspiration from the Tower of Babel, as he wanted the viewer to have multiple perspectives from a range of viewpoints.
'The Hatchling' (2019) by Joanna Rajkowska – Newham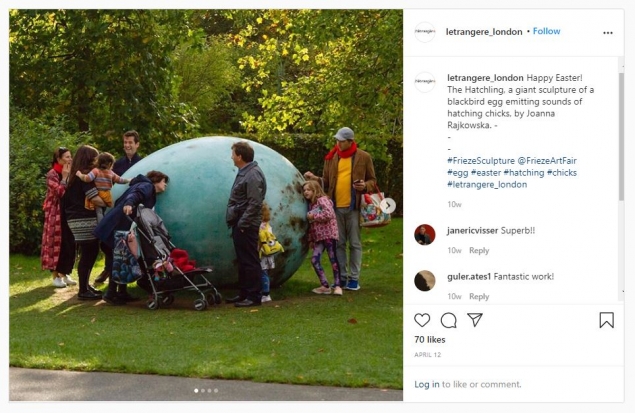 'The Hatchling' is a replica of a beautiful, blue-green blackbird egg. From the inside, sounds of hatching chicks can be heard, and the whole egg itself acts as a speaker which invites visitors to listen carefully. It's a reminder of the fragility of nature, in contrast to the busy city in which it lives.
'Quantum Cloud' (2000) by Antony Gormley – Greenwich Peninsula
Commissioned for the celebration of the millennium, 'Quantum Cloud' is a giant steel sculpture, reaching 30 metres high. It was inspired by the artist's conversations with quantum physicist Basil Hiley, which made Gormley question the relationship between the self and the world. He wanted to convey the force fields surrounding the human body, using his own figure for the basis of this artwork. Gormley says that the sculpture invites us to consider "whether the body is emerging from a chaotic energy field, or the field from the body."
'Donkey' (1955) by Willi Soukop – Harlow in Essex
This little donkey is located at the heart of a housing scheme in Harlow. The sculpture was created by Willi Soukop to encourage children to explore and interact with art through play. He had previously taught sculpture in schools. With its big eyes, bowed head and tall ears, 'Donkey' has become a popular member of the community.