We peek inside artist Clare Halifax's studio to find out the method to her playful cityscapes that are full of detail and precision!
Rise Art Internal Curator, Rebecca Gordon says,

"I am a huge fan of Clare's work. Her intricately drawn cityscapes immediately capture our attention through her distinctive use of design, pattern and colour. The layering technique she uses adds a depth and unique perspective to these often familiar sights and landscapes."
Could you explain the process of your artworks?
I tend to produce work of mainly architectural or landscape scenes. This is something that developed by coincidence rather than design when I realised I could achieve intensely detailed images which seemed to be a lot of demand for. I initially start with the drawing. When the subject matter has been decided on, I depict the scene with a fine liner, working mainly with a 0.1 nib to achieve greater dealer. Once the drawing has been completed I will either achieve the further layers of colour by tracing over the image with layout paper and hand rendering each layer or by having the image scanned and taking it through to Photoshop where I will produce further layers digitally by using hand drawn elements and manipulating them. When I am satisfied that all of the layers are complete I will get them printed on to a polyester film which works as a positive for the silk screen, which creates a stencil on the screen by using light sensitive emulsion. All work is hand printed by myself in limited editions.
Where is your studio based and how long have you been based there?
The print studio I use is based in Dalston, at the Print Club London and I have been based there 5 years.
What is your favourite part of your studio?
I have a favourite print bed that I like to use. It has it's quirks but that is what adds to its charm!
Has your artwork been affected by the people or surroundings of your studio?
There are lots of people there whose work I admire and it's incredibly supportive to be working in an environment with people who are sharing the same experience with you. There are always tips and advice to be gleaned from someone! In regards to the area, Dalston has changed so much from when I originally started printing there. It is an inspiring place that lends itself to creativity and the amenities have improved! You can get a really good cup of coffee.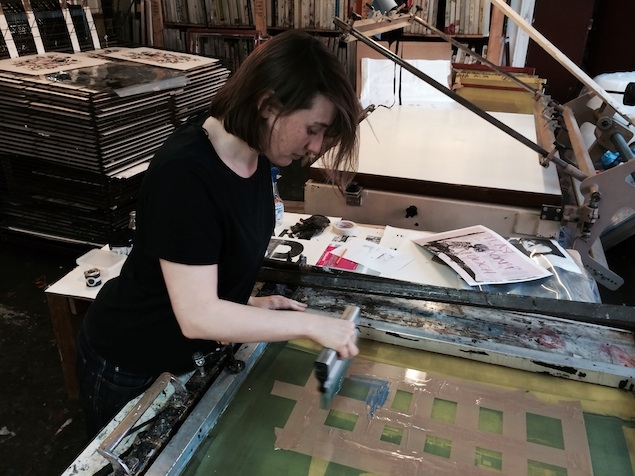 What are the most important aspects in choosing an artists studio?
The Print Club - as well as being just a 10 minute walk from where I live - has 24 hour access which is incredible, especially on a tight deadline. The technicians are the loveliest bunch of people who are happy to help and the owners have managed to create a real community environment. I have met and made friends with some wonderful artists and practitioners by printing there.
View more of Clare's work here or to see more fine art prints, click here!